A free service for Blind and Visually Impaired People
Suspension of Distribution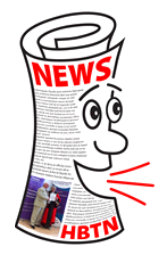 Regrettably in view of the Government's COVID-19 restrictions we are suspending distribution of the Havant Talking Newspaper.
Strange that after 656 editions spanning twenty years of fortnightly recording we are stopped by something one millionth of a millimetre in size - we oft forget we are just one cog in a complex world. This is only the second time that a recording did not go out to our listeners. The last time was caused by a snow storm!
Although we have suspended distribution we are continuing to work on the 658th edition. This is a trial run to produce the Newspaper from 'home'. It may be that future easing of COVID-19-restrictions will allow us to distribute but not to studio record. If so we want to be ready.
The completed 658th recording will be available on our website at: www.hbtn.org,uk, and on the British Wireless For the Blind website at: www.bwbf.org.uk