Award Ceremony at Annual General Meeting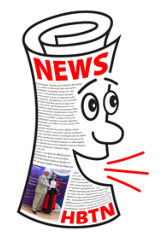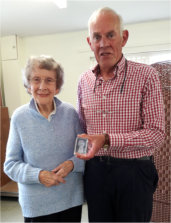 At the recent Annual General Meeting of Havant Borough Talking News, long time listener and volunteer, Jean Dermott was presented with the Pat Nunn Memorial Award. This is given annually to the volunteer who the committee feels has given outstanding service to the charity. Jean Dermott recently stood down due to poor health, but until then was an indomitable volunteer for Havant Borough Talking News, despite her sight loss. She served on the committee and represented the views of the listeners, providing valuable feedback on the content and quality of the recordings. Jean also was an ambassador for the Talking News to Blind Groups in the Borough.
Jean was delighted to receive the award. She said, "This is such an honour, and a surprise"
The Pat Nunn Memorial Award was instigated three years ago, in memory of Pat, who was a founder member of the Charity and worked tirelessly for over twenty years as a volunteer. Her legacy is the successful Talking News that serves visually impaired people in Havant Borough.
The AGM was attended by Deputy Mayor, Prad Bains and Councillor Karen Howard, and was followed by a cream tea for members, volunteers and friends.