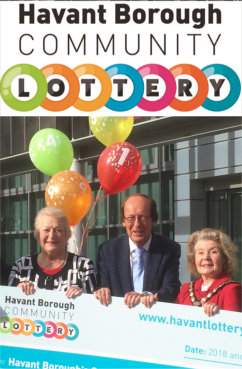 The Lottery exists to support Good Causes and Charities in Havant Borough. It was launched in March by TV personality Fred Dineage, the then Mayor Cllr Elaine Shimbart, and Cllr Leah Turner.
It will enable those Good Causes registered with the Lottery to increase their funding through sales of tickets bought by their supporters. The monies that will be distributed to the Good Causes is much higher than most Lotteries in that 50% goes to the nominated Good Cause, and 10% goes into a Community Pot witch is distributed by a panel set up by Havant Borough Council (HBC) comprising local residents, a Councillor and an HBC Officer.
To register a Good Cause or buy a ticket either follow the link on the Lottery page at: www.havantlottery.co.uk or contact jamie.bridges@havant.gov.uk
Sign up to support your favourite local charity and have a chance of winning a prize.