FIRST WINNERS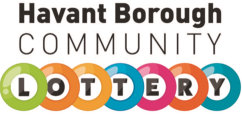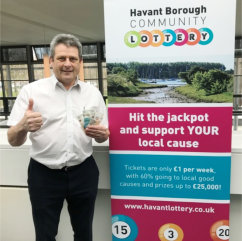 There were twenty lucky winners from the first draw on Saturday 7 April.
Twelve hundred and thirty tickets were sold ahead of the draw, which supported more than 45 local charities and good causes.
The Lottery is on track to raise over £40,000 a year.
One lucky winner, Mr Andrew Vassallo from Havant - above right, matched three numbers and won £25.
The additional bolt on prize of an iPad, to celebrate the start of the scheme, was won by a resident from Waterlooville who was selected at random.
Havant Borough Council has set up the online lottery to provide support to local voluntary organisations and charities. Each ticket costs £1 and has a 1 in 50 chance of winning a prize every week. This includes an incredible £25,000 jackpot prize if you match all six numbers, as well as various other cash prizes.
Tracey Wood at Havant Borough Council said "I am thrilled that the Lottery has launched with such great success. The support we have received from residents has resulted in a fantastic amount raised so far, and it's great to see that the local charities and good causes have got on board."
Tickets cost just £1 each and deliver 60% back to local good causes, in comparison to just 28% contributed by the National Lottery. The remaining 40% goes back into the prize fund and pays for the running costs.
Players are able to set up a monthly payment in advance with the option to do a three, six or twelve month repeating subscription by direct debit or payment card. Winners are informed over email and will have the money transferred automatically to their chosen bank account.
For more information or to sign up to the Havant Borough Community Lottery please visit: https://www.havantlottery.co.uk/