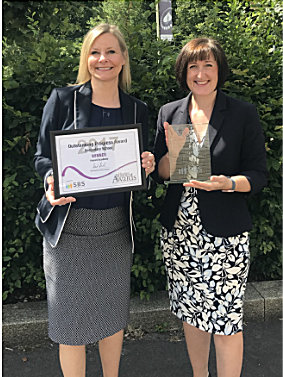 Havant Academy wins an national award for Outstanding Progress - Secondary School!
Havant Academy are immensely proud to announce that they have won the National Outstanding Progress Award -Secondary School with Education Business Awards. This award is presented to the UK secondary school that has made outstanding progress in the management of its facilities, finances and human resources and can demonstrate an increase in the educational performance of the school.
Helen Cassady, Principal said: This is a huge achievement and we are immensely proud of our success! At Havant Academy we believe in young people and encourage them to strive and achieve so they succeed in all that they do. This award is testimony to all the hard work and commitment given by everyone who has supported Havant Academy. To be recognised as the UK school who has demonstrated the most outstanding progress and to receive the national award is truly remarkable. We would like to congratulate all our students, staff, parents, governors and the community on their success as it would not have been possible to achieve this without them. Congratulations!'
In particular the awarding body said: Havant Academy is thought to be the most improved state secondary school in England over the last five years. Advances since joining the government's academies programme are a blueprint for how schools can be transformed by great leadership and hard work from staff and pupils.