The watercress beds were a distinctive feature of Havant from mid-Victorian days until the 1960s.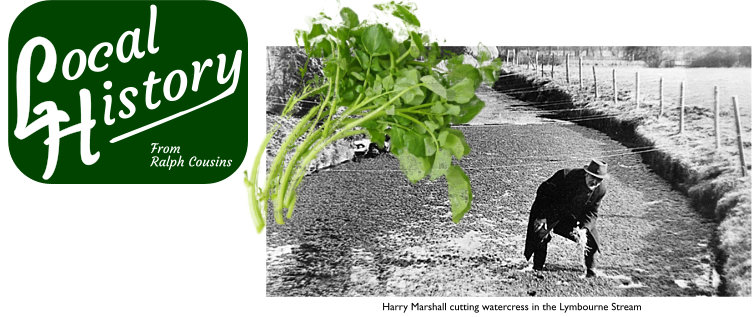 Being rich in vitamin 'C' watercress has for long been a valuable part of people's diet. With the growth of towns, pedlars would gather watercress from wayside ditches and ponds and sell it in the towns. Pollution put a stop to this, and the coming of railways, giving quick and easy access to markets for this very perishable commodity, made large scale growing possible.
Watercress needs gently flowing spring water at the correct steady temperature, about 10 degrees Centigrade, pure apart from lime, with a bed of fine gravel. Havant streams provided this. The beds were divided into bays using earth banks and wooden boards called 'stanks' were placed across the stream to control the flow.
If the flow was too great the stream would be widened; a depth of three or four inches (8 or 10cm) is desirable. Planting was carried out by scattering the overgrown tops of the watercress from another bed into the water, large stones being used sometimes as anchors. The growing period depends on the weather but the watercress could usually be cut from early spring until late autumn, thus being available when other salad crops were unobtainable. During the summer it grew tall and coarse and flowered and would then be used to replant other beds that had been cleared previously. Watercress suffered badly from cold winds and frost in winter, recovering in spring. Watercress has a six-month growing period; 'Green' watercress had broad leaves and grew best in late spring and summer; 'Brown' watercress was smaller and hardier with a sharper flavour, and was used for autumn and early spring cropping. Beds usually provided two crops a year. Working conditions were not pleasant, workers had hands and feet in water and were bent double most of the time.
It is not known who started growing watercress commercially in Havant but one of the first was William Marshall. He was a native of Leicestershire and at the time of his marriage in 1871 or 72 was a butler in the service of the Henty family, brewers of Chichester. His wife, a Miss Morgan of Densworth near Chichester was ladies' maid to the daughter of the family. They settled in Fishbourne where he was landlord of the Black Boy Inn until his death in 1888. Behind the inn was a spring where watercress grew. In company with William Gardiner he began to grow and sell watercress in the 1870s. The business expanded and beds at Cocking, Duncton, Vinetrow, Lathorne (North Mundham) as well as Havant supplied watercress. In some cases streams were leased and the beds worked; in others the growing watercress was purchased and cleared.
In 1888, after his father's death, Harry Marshall, then 13, was apprenticed to Whitcher, a butcher in East Street, Havant. He did not stay long but continued his training elsewhere. Returning to Havant as a married man, in 1901, he opened up his own butch¬er's shop in North Street. When this closed he took over the running of the watercress beds.
Local transport was by horse and cart, often the horse was left grazing overnight in a meadow beside the stream, while the men travelled to and fro by train. In the 1920s the inevitable Model T Ford made its appearance and the last horse known as 'Bogey' was pensioned off.
By now watercress was packed in woven baskets known as chips and with the aid of the lorry these were taken direct to the wholesale vegetable market in Commercial Road, Portsmouth. In warm weather watercress could only be cut in early morning and late afternoon and evening, and this made for erratic working hours, i.e. cutting and packing watercress from mid-afternoon until midnight on Monday, Wednesday and Friday and then up at 3am on Tuesday, Thursday and Saturday to get to market with a number of deliveries on the way. When market finished at 8am there were more deliveries to be made to outlying shops in the Portsmouth area.
Then came the homeward journey collecting empties and most important payment for watercress delivered early in the day. Saturday evenings were also spent collecting payment for watercress sold in Havant during the week.
Spare time jobs included keeping chicken, pigs and house cows for milk. One son grew sweet peas which were sent to Covent Garden.
The opening of the bypass in the 1960s finally brought to an end this large scale cultivation of watercress. It meant that there was difficulty in maintaining the purity of the water. The water level was much lower than it had been due to the increased ex¬traction of water needed to keep pace with the growth in the area, in addition there was a much smaller area which could be used for growing. The sons of Mr Marshall, who were now running the business, decided that it was now time to retire.