I went to Havant Eco Fair. I wasn't feeling great as I have just had a bout of Covid and was feeling tired and depressed. But how glad I was I went because the first person I spoke to was Harry Munt.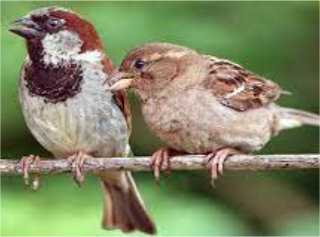 You probably do not know Harry but he is a local young man from Portchester and he is possibly the most inspiring person I have ever meet in the flesh. Harry has single handedly started a campaign called Save the Sparrow. He has articles and interviews published in books and magazines. The latest is a several-paged article in a recent BBC Wildlife magazine.
I wondered how such a young man was so motivated to save such a deceptively common but unloved bird. He stood making bird boxes as we spoke. What started his passion for bird watching? When he was fourteen, dressed completely in black, 'full Goth' as he described it, he was on Portsdown hill when he was mobbed by two Kestrals. They were diving bombing and swooping at less than arm's length, 'possibly because they thought I was a very large crow near their nest.' This was a terrifying but exhilarating experience, deeply emotional. Harry said 'after that I had to pick up bird watching'.
Harry is now studying Land and wildlife management and volunteering on Portsdown Hill. Harry's passion and shear joy with wildlife shone through. Here is an example of someone who has been blessed to make the connection with nature that is increasingly denied us. We can only care for what we love. English culture and literature is soaked in love and care of Nature. ur greatest poets of the past praised its wonders. And when we make that awesome connection with wild creatures our lives are enriched for evermore. My own love of nature stems from on a moment on a Hampshire meadow surrounded by blue butterflies feeding on wildflowers of a chalk downland. If I won the lottery, I would want to gift everyone an experience of our natural world where they can make the emotional connection to Nature so they know and live with the knowledge it is the essence of life.