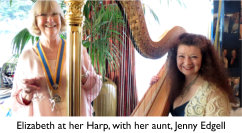 An International harpist helped to celebrate the President of Havant Rotary's year as it draws to its close.
Elizabeth Jane Baldry was born and raised in Emsworth and is renowned for her skilful, touch and sensitive renditions of Harp Music.
Jenny Edgell's year as President of Havant Rotary is due to end on the 30th June. It has been a remarkable year as we celebrated the Havant Clubs 60th year.
Jenny Said: "In my year I wanted to raise money for a new Refuge, a safe house for those fleeing domestic abuse. Havant Rotary has raised Southern Domestic Abuse Service (SDAS) nearly £2,500 so far in my year.
"We have held a Quiz Night and Raffles and events at Christmas to raise the money. Havant Rotarians have been so enthusiastic, and it has been an honour to be President of the Havant Club and I can't thank the members enough for the support they have given my chosen cause."
"The Presidents night at the Langstone Hotel, was a way of celebrating my year and I was thrilled when my niece Elizabeth Jane agreed to play for us, she gave a sparkling performance interspersed with anecdotes about the risqué lives of the Composers. A memorable evening."
Claire Lambon of SDAS was presented with a cheque on the evening and a few days later the raffle proceeds and other monies were also given to Claire to make up the amount.