Hampshire and Isle of Wight Air Ambulance (HIOWAA) is asking children to start saving their 10p coins for the Charity's latest fund-raising campaign; Save Up to Suit Up. The life-saving Charity is calling upon children from schools and youth groups across the region to save up their 10p coins to raise the £20,000 needed to fund new flights suits for the paramedics who make up the Charity's Critical Care Teams. With a new flight suit costing approximately £650, the £20,000 target will fund thirty new flight suits, or two suits for every paramedic. Save Up to Suit Up will be launched on Monday 8th October and HIOWAA hopes to reach the £20,000 fund-raising target by 31st March 2019.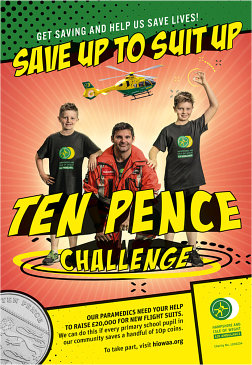 HIOWAA Director of Fund-raising Rachel Leaman commented; 'Our paramedics need your help! If every primary school pupil in our community saves a handful of coins, we can raise the money that we need to fund their new flight suits'.
The new flight suits are a two-piece design, making them more practical than the original one-piece suit currently worn by HIOWAA paramedics. They allow for better distribution of kit, which in turn reduces excess strain to the neck, shoulders and back. In addition, the new Hi Viz red suits are both water resistant and fire retardant, helping to increase visibility and safety at the scene of an incident.
'Our flight suits need to be safe, practical and comfortable to allow us to carry out our day to day work as efficiently and effectively as possible. Thank you to children in our community for saving up to allow us to suit up!' commented Specialist Critical Care Paramedic John Gamblin.
A range of fund-raising resources are available for children and parents to download from the Charity's website, including; make your own collection pots, target posters and teachers' notes. The Charity will also provide fund-raising tips and games designed to help children reach their fund-raising targets.
Rachel Leaman concluded; 'We hope that children across our region will embrace our Save Up to Suit Up challenge in the knowledge that the coins they save will directly fund the flight suits that our paramedics wear every day. By saving their coins, they really can make a difference'.