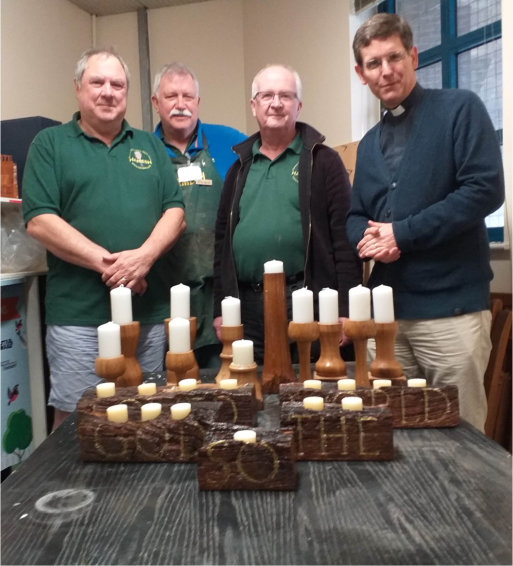 When the Havant Town Centre Mens Shed (HAMESH) were asked to make a new cross for Woodmancote Church, the old one was removed.
Despite severe damage resulting from over 120 years of exposure to the weather there was a lot of sound wood remaining.
Of course the members of the church had an affection for the old cross so HAMESH decided to see what could be done to salvage the timber and recycle the old Oak whilst retaining some of the spirit of the original.
George Palmer took the old cross beam with its original carving and separated the text into separate words after cleaning up the ancient decay, and transformed each 'word' into a candle holder for three or four table candles.
Meanwhile he sawed the upright post into suitable lengths and invited fellow Shed members to each make a pair of turned wooden candlesticks.
The turning process, of course, removes a lot of the outside wood so they agreed to leave the bottom inch untouched as a square base of weathered wood topped by a sturdy, shaped and polished candlestick.
The end results were presented to Revd. Doye at the HAMESH shed premises and displayed at the official open day at the church.
The church chose to retain the table candles, and present one or two of the others to members who had been active in the restoration of the church. The rest of these candles were put up to a blind auction to the parishioners.
Some of the existing parishioners had been christened or married in that church so there was a strong sentimental interest in owning these historic candlesticks and the auction raised a sum of £460.00 for the church.
A note of thanks was sent by the church to George and HAMESH for creating the beautiful candlesticks.