Greenpower helps unlock potential and spark enthusiasm for Science, Technology, Engineering and Maths (STEM) through the excitement of motorsport.
Park Community School has three cars called: Keep Up, Team Spirit 2 and Chase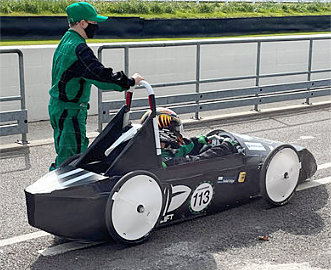 Greenpower is a charity funded organization that invites young students from the ages of 11 to 16 to build an electric car (hence the name Greenpower) and race it at a variety of different venues around the country. Greenpower "Promotes sustainable engineering to young people''. Here at Park Community School, Havant, Hampshire, we believe that we are "Much more than just a school'', which is why we have become part of the Greenpower family.
Park has competed for thirteen years in Greenpower with our original car, named 'Team Spirit', being designed and built by students. This car is now redundant and does not meet current safety regulations so we have invested into three new kit cars that are supplied by Greenpower. The Greenpower members have built the three new cars and have named them 'Team Spirit 2', 'Keep Up' and 'Chase'.
   We have had some recent success in the 2019 season qualifying for the National final at Silverstone motor circuit. Our most recent event post Covid 19 was at Goodwood where one of our cars put in a very good 30.2 miles within the 80min race time. This puts us 5th nationally and should enable us to qualify for this year's final. We are going to take a risk at the next race as a result of increasing our gear ratio.
Two members of Greenpower share their experience of Greenpower at Park.
Student Carly Burrows said: "I joined Greenpower at the beginning of year seven, seeing it on the school's open day made me want to join. I was let into the team after winning a competition that gave me my place. I have done multiple races since joining and even though they are not always successful they are extremely enjoyable and enriching. My knowledge of engineering, which was originally non-existent, has grown and that I am extremely grateful for."
Student Shelby Mitchell: said "I joined Greenpower in year seven because I want to be a Mechanic when I'm older. My experience so far has been amazing and I have really enjoyed being a part of it. I have been able to make a car from scratch and then I was able to travel with my school and drive the cars around different race tracks in competitions."
Greenpower are grateful for the support given to them by Postcode Publications and school governor Ralph Cousins.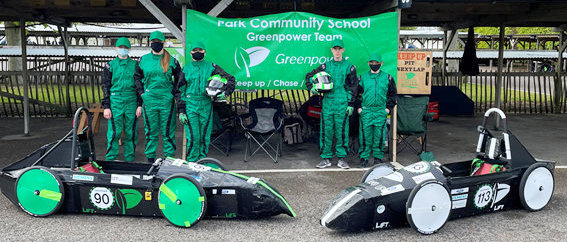 Greenpower is a charity funded organisation that ''Promotes sustainable engineering to young people'