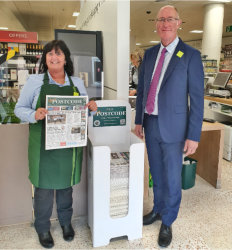 Customers at Waitrose & Partners in Havant asked if they could have `Your Postcode` paper on display in their store.
Waitrose decided that they would give this a trial and since day one the papers have been really popular with their Customers and Partners.
"The feedback has been so positive that we will be continuing to have this on display in our store" said Waitrose Community Activator Kathy Heidstrom pictured right with Store manager Harry Fuidge.