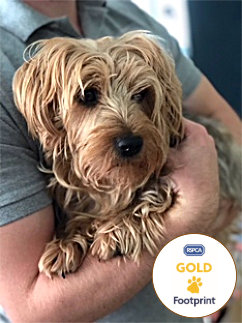 For the first time ever, Havant Borough Council has been awarded an RSPCA Gold Community Animal Welfare Footprint Award for the way in which it handles stray dogs.
The award recognises local authorities which have clear procedures in place to ensure both the welfare of stray dogs and a consistency of service. The work of the Animal Welfare Team at Havant Borough Council was awarded for the first time the highest possible gold award.
As well as recognising the day-to-day work of the team in collecting stray dogs and ensuring they are either reclaimed by their owners or re-homed, the award also recognises the educational and preventative campaigns, which are designed to reduce straying in the first instance, such as microchipping and neutering.
Each year Havant Borough Council's animal welfare officers deal with dog welfare issues, noise complaints in relation to dog barking and dog fouling complaints. It also deals with approximately 47 stray dogs and works with a number of re-homing charities to rehome unclaimed stray dogs each year. However, the majority are reunited with their owners.
Councillor Michael Wilson, Cabinet Lead for Environment and Neighbourhood Services said "I am delighted that the team has been recognised for the high standards of their animal welfare. Dog owners can assist the team in their work by ensuring that their pets are kept safe, are tagged and micro chipped and by picking up after them and depositing waste in the bin.
Should you find a stray dog or wish to report a problem relating to dogs please contact the Animal Welfare Team on (023) 9244 6667 or visit https://www.havant.gov.uk/lost-and-found-dogs for more information.