Girlguiding members in the Waterlooville area have entered a competition with local developer, Barratt Homes, for the chance to have their construction pictures on display.
Barratt Homes asked Brownies and Guides from Girlguiding Bere Forest Division to come up with designs to fit in with the surroundings of Berewood, to display in the show home at the housebuilder's Berewood Green development.
There was an impressive selection of entries from girls between the ages of 7 and 13, from delicious cakes with strawberry rooftops to Lego constructions with spaghetti thatches.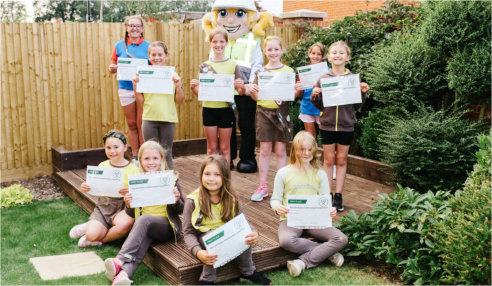 The house builder hosted a fantastic evening on Monday 26th July for the girls to collect their certificates and prizes and celebrate with family and friends.
Barratt Homes also donated hi-viz jackets to keep the girls and adults safe when they are out and about having adventures in the local community.
Tracey Morphett, Bere Forest Division Commissioner, is extremely grateful to Barratt Homes for taking the time to talk to the Brownies and Guides about different jobs in the construction industry, and for asking the girls to take part in such an imaginative competition and celebratory event.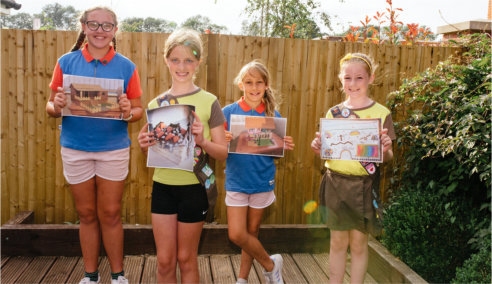 She said: "The activities that we have been able to undertake with Barratt Homes have been a perfect fit for the 'Skills for my Future' Theme within the Guiding programme. It has also been great to see our girls get their creative juices flowing for this competition and to be able to get them together to celebrate their innovative ideas."
The girls have been awarded £15 Amazon vouchers – a perfect thank you from Barratt Homes for each of their efforts.
Anthony Dimmick, Barratt Homes' Community Liaison Manager, said: "We are committed to building relationships in the communities we develop in, and it's wonderful that we have been able to work with the Girlguiding Bere Forest Division for this prize-giving evening.
"The level of entries was incredible, and we are thrilled that we will have the girls' artwork on display in the Berewood show home for months to come."
Girlguiding Bere Forest Division covers Denmead, Hambledon, Waterlooville, Portsdown and Purbrook. Girls and adults wishing to get involved with Girlguiding can register at www.girlguiding.org.uk.
Barratt Homes is building homes across the region, including at Berewood Green a fantastic collection of two, three and four bedroom homes, part of a new community, which includes a new school, shops and sports facilities. Surrounded by countryside and walking trails, close to the coast and with excellent transport links via the M27 and A3, the development is an ideal place to call home