Jobs in the Garden for February and March
Prince Charles speaks about " …the reassuring solace, peace and inspiration of a garden, whether it is your own or someone else's…" during an interview in his beautiful garden at Highgrove. During these dark, wet days of winter alongside the lockdown, outdoor spaces and gardens have become more important than ever. Many organisations such as the National Garden Scheme have uploaded over 180 virtual garden tours for everyone to enjoy. https://ngs.org.uk/virtual-garden-visits/
Meanwhile, there is still plenty for us to do in the garden and in March and April, as the days lengthen and temperatures rise, with bulbs popping up giving a glorious display of colour and buds forming on dormant bushes and plants. Deadhead the flowers of daffodils and narcissus as they fade, but leave the foliage they die down naturally.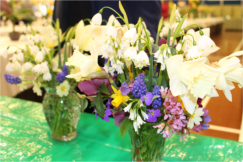 There is still the possibility of some cold weather during these months, so make sure you continue to protect your vulnerable plants, if there is the danger of prolonged frost and waterlogging. At the very least a few sheets of newspaper will offer some protection and raising the pots off the ground to encourage drainage will help. Also try to put your pots in a sheltered position to avoid the worst of the weather. Finally, do not forget that birds and wildlife still need a little more support during the cold weather with extra food.
Before your plants grow too large it is a good idea to get supports in early, so that the plants grow up through them, and the supports become invisible. Adding rigid supports afterwards usually looks unnatural and unattractive. You do not need to buy expensive supports, bamboo canes and string work just as well. Criss-crossing strings from hidden or decorative posts work well, allowing stems to grow up in the gaps between strings.
Now is an ideal time to plant herbaceous perennials. There are so many to choose from so make sure you choose the appropriate plant for the location and their tolerance to possible late frosts. If you like a beautiful display of summer bulbs, now is also the time to get these planted in the garden.
Plants to cut back at this time of year are Cornus (dogwood) and willow. These can be cut back hard to 18 inches and will benefit from hard pruning with even better growth. If you have not already done so, you can also give your roses a final prune if necessary.
Hydrangeas will require some attention during March. Remove the dead flower heads in early spring, cutting back the stem to the first strong, healthy pair of buds down from the faded bloom. Hydrangeas flower on new growth, so avoid cutting into 'old wood', as this can reduce flowering for the next couple of summers. Feed trees, shrubs and hedges with a balanced fertilizer and roses would benefit from a specialized rose fertilizer.
March is also the ideal time to plant shallots, onion sets and early potatoes. Continue to sow your seeds for summer flowering plants and vegetables – maybe take some time to look for something new to propagate this year from the wide variety of seeds available. This will give you continuous colour throughout the summer months.
As the soil warms up, slugs and snails will start to feast on new and young growth in your garden. To combat this, try and use natural methods such as nematodes, beer traps or simply just catch them in the act! Also continue to wage war on weeds and remove any decaying foliage or leaves from borders, as this will give slugs an ideal place to hide out.
If it is dry enough and the grass shows signs of growth you can start to mow the lawn! In late March, apply a high nitrogen lawn fertilizer to help the lawn recover after winter.