Jobs in the Garden for November and December

Article from the Hayling Island Horticultural Society
It has certainly been an interesting, and for many enlightening, year in the garden with so many more people turning to the outdoor environment for solace and support in these difficult times. What you have hopefully learnt is that gardening is not finite and is constantly evolving. You do not just go the garden centre in Spring and plant up the garden and hope that it looks after itself. The joy of gardening is the year round preparation, the nurturing of seeds and young plants and the ultimate enjoyment of your efforts. And, there is still plenty to do as the nights draw in.
We are lucky that our plants are still producing flowers into November so don't cut them back yet! However, as plants do die back, tidy them up although you can leave some stems and seedheads for winter interest and the wildlife will enjoy them. There is plenty of advice around for the best time to cut back a particular plant.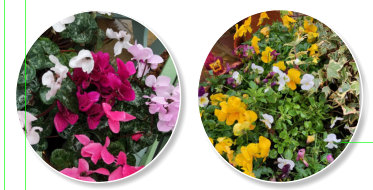 This is however, the best time of year to prune climbing roses removing diseased or damaged growth and tying in any new shoots to their support. Prune older flowered side shoots back by two thirds of their length. Wisteria, fruit trees (except for plum trees which are best pruned in summer), and Japanese maples (acers) also benefit from being cut back at this time.
This is a good time to plant some things ready for next year, as they have time to establish strong roots over the winter. Bare root roses are best planted now and they are a cheaper option than waiting to buy more established plants in the Spring. There are bargains to be had in the nurseries so have a look around to see what you can find. If any plants or shrubs have grown too large, you can dig them up, divide them and then replant in their new positions. Hostas spring to mind here – they do well once they have been divided and will flourish next year.
November/ early December is the latest time to plant your bulbs ready for a fantastic show next spring. After you have emptied out your pots, maybe put some bulbs to give a display next spring which can then be removed to make way for summer plants. Try and include some sand or grit in the compost to aid drainage and maybe sprinkle some grit on to the top as well. You could also grow some pretty pansies/ violas or heathers on the surface for Autumn/Winter colour. Cyclamen also provide some beautiful winter colour.
Once plants have died back and gone dormant, do pay some attention to your soil and dig over empty borders and add a mulch of compost or manure. If you are emptying out old grow bags and pots, just put this around the base of your shrubs. Grass cuttings will also do and be beneficial around the base. The worms will then do their job and take this down into the soil. Continue to aerate the lawn with a fork and if necessary do a light cut if the grass is still growing.
If there is a danger of frost put your more tender plants in a sheltered place, cover them with a fleece or if you are lucky to have a greenhouse, many plants such as geraniums and fuschias can be overwintered in there. Water them sparingly to ensure you maintain a dry atmosphere. Before you do this, maybe give your greenhouse a good clean with disinfectant to eliminate any lingering disease and create more light.
To everyone who entered our virtual shows, we hope that you enjoyed taking part and enjoyed seeing the coverage. To anyone reading this who did not enter for whatever reason, there will be the opportunity to enter our bigger Virtual Spring Show next year. Full details will be published here of all the classes you can enter. In the meantime keep an eye on our website www.hihs.org.uk and Facebook page. All members who paid to join the Society this year will have continued membership for free next year. We hope to send out a newsletter to all members early in the New Year.