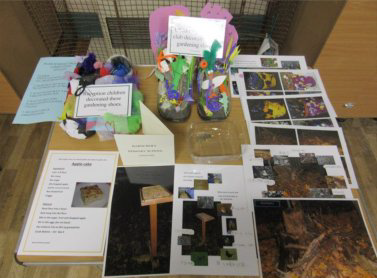 Young people in the area had a great deal of fun this year as shown by the results of the Purbrook Horticultural Society Inter School's Trophy Competition entries. Every year all Schools and pre schools are invited to enter the competition set up to encourage young people to the joys of Horticulture; enjoying the results of their hard work and being in the great outdoors. This year the Society were encouraged by the increase in number of Schools entering and the quality of their work.
The 2018/2019 competition comprised:
Build a Stumpery and list all creatures seen using it
Grow Fruit and make a Pie; Crumble; Cake or Drink
Build and decorate a Bird Table or Nesting Box
Plant an area using Plants and Pots in School colours
Decorate a Pair of Gardening Shoes
During the monthly meeting, attending members voted on the School's efforts resulting in the following Schools being deemed worthy of a Trophy. Winners [in Alphabetical order]:
Barncroft Primary, Leigh Park
Padnell Avenue Primary, Cowplain
Petersgate Primary, Clanfield
Purbrook Junior, Purbrook
Purbrook Park, Purbrook
St Alban's Primary, West Leigh
Warren Park Primary, Leigh Park
Barncroft Primary; achieving the highest number of points, also received the sum of £30 generously donated by members using coins for points in order to purchase further Gardening supplies.
The 2019/2020 Competition is already in planning and invitations to enter will be with Schools at the start of the new School year in September and details online at www.purbrookhorticulturalsociety.org.uk