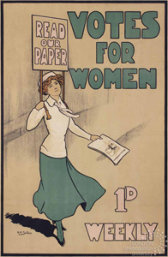 It was a full house on the evening of the 5th April when, at the Spring Arts and Heritage Centre in Havant, the audience settled down for what proved to be an utterly fascinating and hugely informative lecture entitled 'Votes for Women – Art, Suffragettes and Female Politicians!
The speaker, celebrated archivist, author and historian Caroline Shenton, was introduced by Janet Williams, the President of The Arts Society Portsdown, which had organised the event, and June Robinson, the National Chairman of The Arts Society which numbers over 90,000 members in countries across the globe.
The lecture marked two special anniversaries which fall in 2018; the golden anniversary of The Arts Society in Britain and the 100th anniversary of the year when the first women in Britain finally won the right to vote in elections to parliament.
Among the audience was at least one listener with a direct connection to those who fought for women's suffrage in the last century: Jacqueline Bowker's great grandmother, Margaret Pennington was a close friend of Millicent Fawcett whose statue will soon grace Parliament Square in recognition of her leading role in the struggle for equal rights. Jacqueline, from Emsworth in Hampshire, told me how Margaret and her husband, the Liberal MP for Stockport, were, with Millicent Fawcett, founder members of the London Suffrage Society which promoted the suffragist campaign of non-violent action.
Both the promoters and the opponents of women's suffrage used art and artists to reinforce their respective messages and the visual image became a key weapon in the battle of beliefs. This was beautifully illustrated by Caroline who concluded a superb lecture by inviting questions from the floor.
It was clear that what she had shared with us had been most thought-provoking and the response from the audience at the end of the evening showed that the overriding theme of The Arts Society, enriching lives through the arts, had been met with resounding success.
Hazel Shaw
info@theartssocietyportsdown.org.uk