Episode Three - The Pall Years
The life story of Councillor Ken Smith
Many times during my career people had said to me "Ken you ought to be in sales", and so when Pall offered me the position of 'Sales Engineer' in the company's aircraft division (APME Ltd) I was delighted to accept. However, in a very short time the Sales Manager left and I was immediately promoted to take over. In all, I worked for Pall for 26 years during which I became the Sales Director, then Commercial Director and Vice President.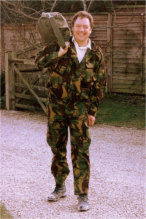 The product which really engaged me and led to my remaining at Pall for the rest of my career, was "engine air particle separators" and their ability to exclude sand and dust from delicate engine mechanisms, particularly in helicopters. We at Pall knew how necessary engine air separators were for operations in sandy conditions and had been offering them to the British MoD for years. The response was always "no thanks, we don't need them" even though the system had been in service since the seventies with many export customers.
Then, in late 1990 the Gulf War erupted and everything changed. We ended up re-equipping the Chinook, Sea King, Puma, Gazelle and Lynx helicopters. We even re-equipped the British Warrior Tanks and Challenger AFVs but more of this later.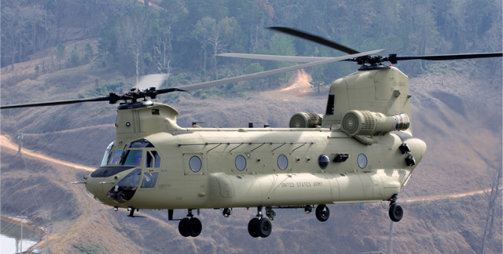 SANA'A, NORTH YEMEN
The Yemeni Air Force operated the Russian built Mil Mi8 helicopter which had an inefficient Russian system. We had already decided to adapt our existing Sea King system to fit the Mi-8. This worked amazingly well and we were awarded a contract to upgrade all the Yemeni Mi-8 helicopters. We sent a very experienced two man team to Sana'a to carry out the installations at Sana'a airport.
All went well until I received an urgent message from Sana'a saying that one of our engineers had broken his leg and was unable to continue. The Yemeni response was typical – they confiscated our guys' passports and refused to allow them to leave the country unless/until the job had been completed. I arrived in Sana'a the next day and persuaded the authorities to release our men on the basis that I was a director of the Company and would personally take over the job. I selected the best available local mechanics and trained them in what was required. Thankfully, they turned out to be a reasonably competent bunch. Work proceeded but I had to keep a very close eye on everything they did. One thing the authorities insisted on was that I would personally fly with the test flight crews when each installation was completed, just in case something went wrong!
This turned out to be an interesting experience. The flights involved flying from Sana'a (elevation 6000ft) through the mountains, descending to sea level and landing at Hodeida International Airport. The return to Sana'a involved climbing steeply to transit the mountains. I was pleased to record that the aircraft's climbing performance was considerably improved by our system. Just as well because the return over the mountains proved to be 'interesting'. A really steep climb was required and I caught more than one crew flying their shuddering helicopter at well below the safety speed required. When challenged they would smile at me and reassure me that "Allah was looking after us!"
The flight crews seemed to enjoy this trip too. They had fun scaring the life out of truck and bus drivers on the highway by flying head on at them! However, as we were descending into Hodeida to land, they would all start chewing 'khat', a common 'recreational' drug in the region. It contains an alkaloid, cathinone, an amphetamine-like stimulant, which causes excitement, loss of appetite, raised sexual drive and euphoria. Not the ideal substance for a flight crew to indulge in whilst still airborne! They would land in an isolated part of the airport and then, with the engines still running and rotors still turning, they would all pile out and lie in the shade of the aircraft to cool off!
The task took about a month to complete during which I made many local friends and was a guest at lunch with the Air Force Commander who turned out to be the brother of Ali Abdullah Saleh, the then President of Yemen. An experience to remember.
The first Gulf War. 1991
In January1991 Iraq had invaded Kuwait and the region was preparing for war. As stated previously, we had equipped all UK helicopters and tanks with our new filter systems and I was asked by the MoD if I would be prepared to go to Saudi Arabia as a technical advisor to ensure that all the systems were working as intended.
So, on Thursday, January 10 1991 I arrived at RAF Innesworth to be kitted out for the trip to Al-Jubail in Saudi Arabia. I was to travel with a team of experts from a number of major companies.
At RAF Brize Norton where we boarded an RAF Tri-Star for the journey to Riyadh, Sitting there in my casual civvies I thought, not for the first time, 'what the hell am I doing here?'
We arrived at Riyadh after a long, cold flight. We were told we would have wait until 08:00 the next morning for our onward flight to Al Jubail. Asking about overnight accommodation I was told by the Reception officer that there were no facilities and that our accommodation for the night was a line of plain thin mattresses on the floor,,,,,,, Great!
At 07:00 we trotted off with a dozen military guys and boarded an RAAF C130. Destination, Al Jubail. To avoid being picked up by the Iraqi radar we flew at 50 feet, skimming aver sand dunes and the occasional oasis, frightening herds of camels and goats! On arrival at Al Jubail I was amazed to see hundreds of helicopters, Patriot air defence missile batteries, tanks, and armoured vehicles. I had never seen so much military hardware in one place before.
The MoD emphasized that all civilians had to be out of the country before the shooting war started. I spent three days visiting every helicopter unit. On day four I was briefed by an Army Colonel that the situation was changing hourly and that we could expect NBC alerts at any time. He also hinted that the Army was on the move and that by the following day most of the personnel and vehicles currently in Al Jubail would move up country. From this moment on all civilians had to have their full NBC kit with them at all times. As the day went on the weather just became worse. Streets were flooded, the desert became a soggy mess. I pitied the poor troops out there in their tents.
I was scheduled to do a final inspection all the Challengers and Warriors prior to leaving for the UK later that evening. I had planned to arrive at the airport in time for an 18:00 departure. It was then that I discovered that all the other guys had already left! They had been rounded up at midday to depart at 14:00 via Akrotiri. I was the only remaining civilian and it was now very close to the deadline. I was advised I would be travelling on a chartered B747 which had managed to get away from Kuwait when the Iraqi invasion started. It was being used to move troops and equipment from UK to Saudi.
The aircraft finally arrived at midnight. Over 300 troops marched off to the sound of bagpipes. On boarding I asked one of the cabin crew where I should sit. He responded, "Wherever you like sir, you're our only passenger!" I was exhausted and, finding a seat in first class, almost immediately fell asleep.
I awoke suddenly, to find myself in total silence and complete darkness! At that moment the cabin lights came on, the engines started again and we were off. Looking out of the windows I saw an American F15 on each wingtip. The lights didn't go off again until we were at 39,000 feet. The F15s stayed with us until we left Saudi airspace. Amazing!
I discovered later that we had been ordered to shut down the engines and extinguish all lights because a Scud missile attack had been launched by the Iraqis. Apparently we had sat there, with the aircraft in darkness, for three hours!
The flight home to Lyneham was a long one and the only food on board was piles of Army rations but I didn't complain. Unlike the thousands of troops still deploying for that War, I was on my way home!