The life story of Councillor Ken Smith
Episode Four -

I retired from Pall Aerospace in December 2000, aged 59. One of my first actions was to set up a Consultancy "KPS Enterprises" so that I could continue to work with my long term business partners. I thoroughly enjoyed this activity and with very little effort, obtained a contract to supply troop seats for the new Merlin Helicopter. A million pound contract which financed my KPSE activities for the next four years.
It was thanks to Hazel that I discovered a new and very unexpected opportunity. She had read in the local paper that Chichester Festival Theatre (CFT) were looking for amateur actors for a new community play, Barchester Chronicles, and suggested that I apply. I had had no acting experience, in fact, had never been on stage, but to my amazement, I was offered not one but two parts!
I was little more than portable 'furniture', no lines to learn. Nevertheless I found 'Barchester Chronicles' quite demanding but the experience was fantastic and I made friends with other cast members which would last throughout my short but exciting acting career.
My next performance was at the South Downs Open Air Theatre. I was to play Bardolph in The 'Merry Wives of Windsor'. Shakespeare no less! If I knew little about acting I knew even less about Shakespeare, as became clear during one rehearsal. After we'd run through a scene the Director called me over and said: "Ken, that last little line of yours, it was intended to be a joke!" Well, Shakespearean jokes are notoriously difficult to spot – anyway, that was my excuse!
In 2002 I was invited back to the CFT and this time I was chosen for a principal part in 'The Devil's Dancing Hour', a drama about the Civil War when Cromwell and his troops invaded and held the city of Chichester to ransom. I was cast as Sir Thomas Bowyer (Hazel called me Sir Sausage at home!). When it came to the production I had the full costume, sword, swagger, hat with plumes and everything. It was a really fantastic experience. The atmosphere at CFT was always friendly. That's what made it such a pleasure.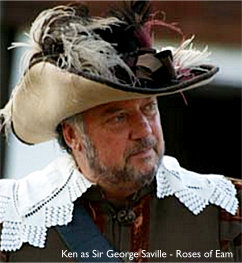 The next play was The Roses of Eyam by Don Taylor which took place in the Singleton & Downlands open air museum utilising the fantastic collection of 16th and 17th century buildings. As you may know, The Roses of Eyam is a very moving tale of the Derbyshire village where a ream of cloth was purchased by the village tailor. Unfortunately the cloth came from London and was impregnated by the Great Plague which caused much suffering and many deaths in the village. I had two roles, Sir George Saville, patron of the Rector of Eyam, and William Thornley, a member of a prominent Eyam family. A very enjoyable experience, acting in the open air but quite demanding on a windy evening.
Next was the famous musical 'Cabaret' at CFT. I had a number of roles but, principally, I was a patron of the nightclub. I was even allowed to sing, albeit as part of the chorus. Great stuff! It was a real privilege to be on stage and share dressing rooms with professionals.
My last production was Marlowe's 'Doctor Faustus'. The play started in the Chichester Minerva Theatre and from there it – together with the audience – moved out and into the streets of Chichester, up to the Cross and then along to the Cathedral, the final scene being at the altar. My role was to be one of six narrators. I had the opening line at the Minerva, and the last line at the Altar. Just before opening night the director came up to me and said: "Ken, I saw you arriving in your little red MG, do you think we could use it in the play?" I asked him what he wanted to do with it and he said: "Well, if you agree, you can be dressed up as a minor demon and chauffeur the Devil to and from the Cross. Of course, I said I'd be delighted and so, before each performance, my car was positioned at the ready in a pub car park in North Street (it had been equipped with false plates reading 'DEV 1 L', what else?). According to plan I had to drive up North Street, with lights flashing and music blaring, pick up the actor playing the Devil, drive him round the side streets to Chichester Cross, leave him there, drive away and then wait for my cue to return to pick him up again at the Cross and take him to the Cathedral.
One night I was sitting in West Street, Chichester, my car facing the wrong way in the one-way system on double yellow lines, when a young policeman came strolling along. I thought: 'This looks ominous, a demon sitting in a car with false plates, facing the wrong way'. Well, the constable walked up to me and said: "Excuse me sir, you can't park there". I said "I'm very sorry officer, but this is the Devil's chariot and I'm his demon driver waiting for him." So he said, rather decently I thought: "Oh, well OK then," and walked away!
As I've had the last line of the play. In the cathedral it was very quiet, dark and spooky. I came on stage holding a candle – by this time Faustus has gone to the devil – and having delivered my closing line, I blew out the candle and the play ended. It was very dramatic. I really enjoyed my 'acting career' but that came to an end when I was elected as a Havant Borough Councillor. I knew anyway that I couldn't last very much longer in the theatre because I was finding it difficult to learn all the lines!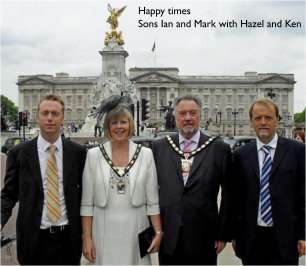 Politics
Having spent my business life travelling the world I decided to become more involved with the local community. I'd always had an interest in political affairs and now wanted to give something back into the community. In 2003 I applied to the Conservative Association and became a member of the Party for the first time. In 2004 I stood as a candidate in the local elections for the Bedhampton ward of Havant Borough Council where there hadn't been a Conservative Councillor in the ward for at least twelve years.

To my amazement I won the seat, although with a very slim majority. I'm proud to say that I have increased my majority in every election and in 2016, secured 51% of the vote. I felt very happy and privileged. Back in 2004 the first thing I was asked to do was to find local people to form a committee with me as chairman to spend a new grant called 'Liveability'. This had been voted in by Tony Blair's Labour government to benefit local communities. In our case it meant we had £1.1 million to spend on local projects, and as with much local funding, it had to be spent within the allocated year or it was forfeited. I duly formed a committee and we spent our allocated budget There are many examples around Havant where improvements were made which might otherwise never have attracted funding.
One highlight of my time on the council came in 2007 when Havant received a visit by HRH Princess Anne. As the relevant portfolio holder, it was my privilege to escort her to see the work we were doing to motivate young people to acquire working skills.
The following year I was invited to attend a ceremony in Portsmouth where the Military Attaché of Malaysia invested surviving British servicemen who had served in the Borneo/Malaysia/ Singapore region with the Malaysia Pingat Jasa medal for helping to save his country from Communism and I was honoured to be a recipient.
In 2010 I was elected as the Deputy Mayor of Havant, and the following year Hazel and I became Mayor and Mayoress. This was the pinnacle of my political career and a proud achievement. Hazel and I enjoyed a very busy and exceedingly rewarding year during which time we attended over 400 engagements and raised over £26,000 for our selected charities.
A year later I was asked to become President of the Havant branch of the Royal British Legion, a position I still hold with pride. Today, I remain a local councillor tragedies. Compared with much of humanity that's not bad going, at least I think so.
"Beginnings and endings – you can't escape them. You just have to be thankful for the time in between, and I surely am!"
I also keep in touch with old comrades from my RAF Halton days. We have a major reunion at Halton every three years and I'm an active member of the South Coast old boys branch which meets monthly at the Tangmere Aviation Museum.
I am also a member of the Royal Airforce Association, the Aircrew Association and the National Malaya and Borneo Veterans Association.
Last Recollections
In 1989 I qualified for a Private Pilot's License. Hazel and I flew to the Alps that summer and had a wonderful vacation. In fact, Hazel learned how to take off and land plus use the radio for our self-preservation and protection, should anything untoward happen to me whilst we were in the air!

I had part ownership in two aeroplanes, a Piper PA38 (G-PRIM) and a Cessna 172 (G-BEMB). I flew for nearly twenty years during which I gained an instrument rating which enabled me to fly on business trips. But when I passed sixty the medicals became very onerous and because I had a suspected heart problem, the authorities said I couldn't fly unless I was accompanied by a 'safety pilot'. I never took to that idea so I retired.
Living by the sea, we also enjoyed playing about in boats. We owned a beautiful Westerly Tiger named 'Ocelot' and, a little later, we had a fast motor cruiser called 'Hey Jude'.
All in all I have enjoyed a very fortunate life, notwithstanding a couple of real personal