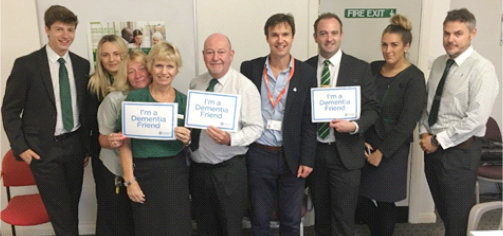 Havant businesses are being offered free awareness sessions to help them to better support customers who live with Dementia.
Lloyds Bank and Waitrose are among those who have already taken advantage of the sessions, given by local businessman Duncan Cameron, who is a Dementia Champion trained by the Alzheimer's Society.
Duncan, who runs quality home care provider Right at Home Havant, said: "It is great that Lloyds Bank and Waitrose have recognised the value of running a short session to improve their knowledge and awareness of dementia, so that they can better serve their customers and their community."
Kathy Heidstrom, Community Matters/Charity Co-Ordinator at Waitrose Havant, said: "The evening was brilliant – feedback from the team is that they all got so much out of it, as it was made fun as well as interesting. I think we have all learnt how we can help customers who have this illness, and know what to look out for."
Lloyds Bank branch manager Chris Skillings said: "The validity of this session was proven soon afterwards, when one of our team members used their increased awareness of Dementia to identify that one of our customers was vulnerable and therefore change the direction of support we offered them."
Duncan added: "It's a fairly light-hearted one-hour session, but deals with a very serious matter and, at the end of it everyone is accredited as a Dementia Friend in support of the Alzheimer's Society's campaign.
"I hope other businesses in Havant and surrounding areas follow suit and ring me to book a session."
Contact Duncan Cameron on 07887 780124 to arrange a Dementia Friends session in your organisation.
About the Dementia Friends campaign
Alzheimer's Society's Dementia Friends programme is the biggest ever initiative to change people's perceptions of dementia. It aims to transform the way the nation thinks, acts and talks about the condition. Dementia Friends Information Sessions are run by volunteer Dementia Friends Champions, who are trained and supported by Alzheimer's Society. Each Information Session lasts around one hour.
About Right at Home
Right at Home is a high-quality provider of care in people's own houses. It is a franchise of Right at Home UK, a successful international business with 20 years' experience in care and approx 500 offices operating across five continents.