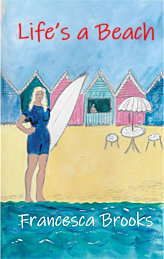 In a new book, a Hayling Island author has 'spilled the beans' about running a beach kiosk.
Life's a Beach tells the story of a woman recovering from a failed marriage and business who arrives in a south coast resort to take over a defunct kiosk. Nancy used to holiday in 'Pagley Bay' as a child, and is drawn there when she sees an online advert for the Kozy Kiosk. The book follows a summer of ups and downs and sometime hilarious situations and misadventures as she learns to cope with the demands of visitors and sometimes very odd regulars. Amongst them are Naughty Nonda, Mr Takes The Biscuit, Russian Reg and Jabber the (beach) Hut. Then the Silver Surfer arrives at the start of a water-sports festival, and Nancy falls in love. Of course, the path of true love never runs smooth, and nor does her first summer at the kiosk.
Although having worked in publishing industry for many years as an editor, Life's a Beach is Francesca's first novel: 'It's been a very interesting year,' she says. 'I spent nearly every day last summer visiting beach kiosks and watching the people running them and their customers, and that involved making copious notes - and drinking countless cups of latte!'
So how many of the characters in her book are based on real people? 'None,' says Francesca firmly, but with a hint of a smile. 'Like all fiction writers, I've made up characters based on my observations, but I don't think anyone could be as weird as some of the people I invented!'
Life's a Beach is published by La Puce Publications and is available from Amazon Books in Kindle e-version or paperback.
Also soon to be available through wholesalers Gardners and local book stores. For more information contact Francesca Brooks at: francesca.brooks@hotmail.com