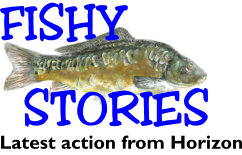 After the horrendous rain and gales at the weekend it was a pleasant surprise to enjoy a warm sunny day at Hambrook for Round 17 on Tuesday. 31st July.
Twelve members attended the latest Carp Only match and there were indeed carp for only six of those members and numerous lost or missed fish for most.
After only five minutes, first to have a run was Derek. It came off but it was encouraging and an hour or so later he landed a decent 6lbs 8oz common/koi hybrid on method feeder and corn which was enough for runner up on the day. Then Sue had the first of her three carp to 7lbs 6ozs for a match winning 17lbs 10ozs. Aaron landed two smaller carp for 4th place while Mike Waite's late in the day 5lbs 14ozs common gave him 3rd spot. Ron Dodd was the only other member to land a carp, this time a 4lb mirror.
Again, Dave drew the end swim controlling the willow/island area and had plenty of action with several runs where fish bent his hook or hook lengths gave away. It was a busy but unproductive day for Dave. Alan also suffered with at least three fish taking him into roots around one of the islands, one of the perils of clipping up and being able to cast within a foot or so of an island. Even match winner Sue suffered lost fish along with Aaron and Mike.
Elsewhere there were silvers to be had with Jan enjoying a fish a cast to bag 5lbs 10ozs of silvers, mostly perch. Derek landed a lovely 6lbs 8ozs bream on 8mm robin red pellet, see pic on website
http://horizondac.co.uk/   which beats his previous bream PB, also at Hambrook in May by 8ozs.
Most unexpected catch of the day was a young coot which swam into Jack's line and got its foot tangled. Fortunately the coot was not hooked and Jack reeled in and with the bird safely in his landing net, untangled the line from its leg and safely returned it to the water, no harm done. Jack's experience of handling his racing pigeons came in handy on this occasion.
We are pleased to announce another Match Meeting at Hambrook in memory of Mike Palmer a well liked member and lovely man who was sadly taken from us far too early. The event will be held on Tuesday August 28th and will be called "The Hambrook Trophy in Memory of Mike Palmer" and all fish caught on the day will count. Best total weight wins. The match will become an annual event in memory of a true gentleman.
By
Derek Wood, Mike Waite and John Forster - Match Organiser Team, Horizon Angling Club for the Disabled