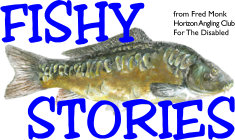 The first of the Weekend League match meetings got under way at our own Club water on Sunday 8th April. It was a dry start but conditions became more challenging as a steady heavy drizzle set in for the day. A big Thank You to the nine members attended and it was not long before John Knight's alarm screeched and he was into a very decent mirror carp at 8lbs 3ozs taken on maggot from the east side of the lake. Following a few quiet match meetings at Havant last year, this was just the start everyone needed and there was lots of friendly banter between members spread round the lake. Plenty of reference to eels was aimed in Andy's direction of course, and when others asked politely "what bait should I use on the hook?" the reply "Nothing!" came from the direction of Paul and Sue's bivvy!
It went a bit quiet for a while until Colin, who had lost one earlier,  got off the mark with a lovely looking bream at 3lbs 7ozs taken on float fished double maggot from the north bank.
Having missed the opening event at Three Oaks, it was good to see Dave, fishing the west end of the lake, into a fish on his first outing. And what a fish it was. A cracking mirror at 7lbs 6ozs with just the odd scale, It almost looked like a leather carp. Dave's fish fell to artificial maggots on the drop.
It was clearly going to be a day of quality rather than quantity but it gave those who didn't catch a chance to see some lovely fish landed from three different areas of the lake and underline that there are some lovely fish in there and that they don't get spooked completely on match days. This should bode well for the coming months.
Results and Standings in Weekend League Round 1
1  John Knight (JJ)  8lbs 3ozs 12 inc. bonus pt
2 Dave O'Donnell    7lbs 6ozs   6pts
3 Colin O'Mara       3lbs 7ozs   3pts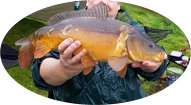 Mike Waite, John Forster, Andy Farrell, Sue Parkin, Denis B and Jan Horton all score 1 pt.
Bonus point for heaviest Fish of the Day goes to JJ for his 8 lbs 3 ozs mirror carp.
Overall Standings in Points and Weights Leagues after 2 Rounds
1  John Knight8lbs 3ozs12pts
2  Derek Wood5lbs 5ozs12pts
3 Dave O'Donnell7lbs 6ozs  6pts
4 Alan Wood2lbs 10ozs  6pts
5 Colin O'Mara3lbs 7ozs  4pts
6 Mike Waite0lbs 12ozs  4pts
7 Denis Bloodworth0lbs 8ozs  3pts
8 John Forster0lbs 3ozs  2pts
8 Sue Parkin0lbs 3ozs  2pts
10 Jan Horton0lbs 0ozs  2pts
10 Andy Farrell0lbs 0ozs  1pt
Cheers and Tight Lines
By:
Fred Monk, Horizon Angling Club For The Disabled