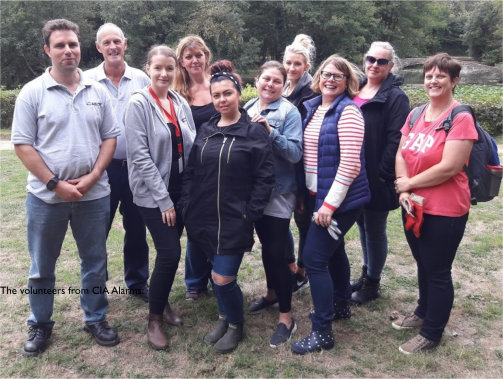 Opportunities for volunteering in the Havant area are growing by the day, and so for a day in September Community First were delighted to welcome some help from
a fantastic group of volunteers from CIA Alarms, based in Waterlooville.
Community First are keen to support Staunton Country Park in the transformation of the parkland and gardens, the group from CIA alarms rose to the challenge.
Work at Staunton is a three-year program being funded by the Heritage Lottery Fund in conjunction with Hampshire County Council. The programme will see the restoration of the original Regency and Victorian parkland as well as the creation of new visitor facilities.
Liza Smith, Volunteer Coordinator at Staunton welcomes the input from CIA alarms: "We were delighted to host CIA working alongside our regular volunteers. They were involved in coppicing an area of woodland to encourage the growth of new plants and let sunlight in. Coppicing is an important management technique as it encourages a healthy and varied biodiversity. The involvement of volunteers is vital to the long term success of the transformation programme."
Fiona from CIA Alarms said "This is our first event in conjunction with Community First and we have thoroughly enjoyed working to sustain the beautiful park for our families and future generations. It has opened our eyes on what is required to maintain this large area. We would encourage volunteers to help, as this is just the tip of the iceberg in terms of what needs undertaking. CIA Alarms have been based in the area for over 45 years. It was great for us to give something back to our local community, and to see the difference has made it very worthwhile."
The team from CIA alarms were hard-working and it was fantastic to see the huge difference they managed to make in just one day. Staunton were thrilled with their work and enjoyed their fun, friendly and enthusiastic company.
Without the support of local businesses, many charities and community groups would struggle.
For more information about how you can get involved with the Employee Volunteering Scheme contact Rachel Taylor at Rachel.taylor@cfirst.org.uk or telephone 01730 774057.