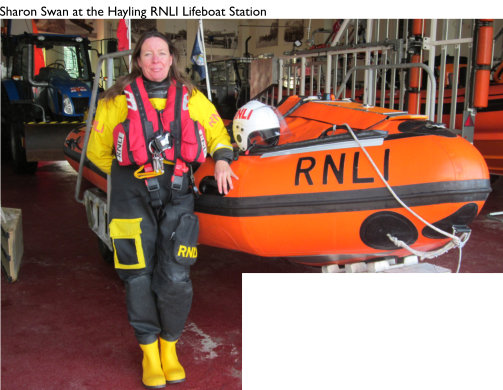 Sharon Swan has achieved a personal ambition and created a historic moment as she passed the assessment to become a D-Class Helm, the first female helm at the Hayling RNLI Lifeboat Station in 103 years of lifesaving.
Sharon has lived on Hayling all her life. As a child she used to hear the lifeboat maroon go off and would dash down with friends to see the boats launch but when she joined the crew she had no marine experience apart from working for ferry companies in their offices!
Sharon joined seven years ago and became a fully qualified boat crew after three years. She was encouraged to start training as a helm and began the rigorous work a year ago. She has found difficulty in fitting all the learning both ashore and afloat into her busy life.
Gaining practical experience in leadership and management of crew in the boat took time, but she said after the test 'I'm relieved and now the real learning begins but I feel proud. It's been worth putting in the effort and I've had lots of encouragement both from the crew and from my family.'
Nathan Jauns, Area Lifesaving Manager, who carried out the assessment said, 'Sharon showed great leadership and command throughout the test and will be an excellent helm for the station.' Lifeboat Operations Manager Jonathan Bradbury said, 'Many congratulations to Sharon on her historic achievement in becoming the first lady helm at Hayling. Very well done indeed.' Andy Ferguson, Senior Helm who encouraged Sharon to join the crew back in 2012 said, 'Sharon is a person who always goes the extra mile and is a totally reliable skilled crew member. She is a vital member of the team whose commitment is outstanding and she will be an excellent helm.' All the crew look forward to working with Sharon who will be especially valuable as a helm since she is available during the working week. She joins the small group of female helms in the RNLI and looks forward to a busy time saving lives around Hayling.