Forgotten your reusable bag? Don't worry, you can just borrow one.
Plastic pollution is a hot topic on everybody's lips at the moment along with the climate crisis our planet is facing. Our oceans are filling, at the rate of a full bin lorry of plastic waste every second, and there being no sign of that slowing down. Yet, we all have the ability to stand up and be counted. To make a change for the better, and one that will not negatively impact our lives. So where do we start? Right here, in our villages with refusing single-use plastic bags.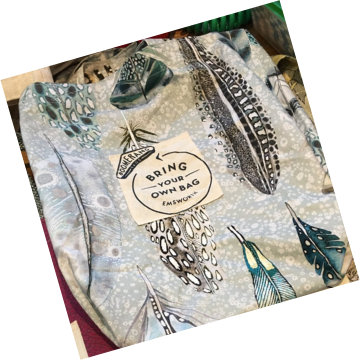 Boomerang bags, also known as borrow bags, has been steadily growing the last year in and around Emsworth, the home of Final Straw Solent. The borrow and return bag scheme, that began in Australia, has made a welcome environmental change by reducing the amount of single-use plastic bags used throughout the area. Bags are available in several shops around town, and staff actively encourage people to use one of these bags if they have them in store. Simply use one, two, three, whatever you need if you have forgotten your bags, and return them to any shop involved in the scheme at a later date for the next person to use.
The scheme is free to shoppers, and we hope, will help one day in the next year making Emsworth and surrounding areas single use plastic bag free. It's as simple as that.
So where do the bags come from?
This is where you all come in. We need your help. Bags are made by local volunteers, following a simple pattern from any material they have lying around. Scrap material is best so we can give it a new lease of life. Maybe you're wondering what to do with that old pair of curtains you have. Well here's the idea. Join the Final Straw Solent sewing team and divert material waste from landfill and help tackle plastic pollution at the same time.
If you can spare any time then we would love to welcome you to the team. Can you help make bags, and deliver them to the Bluebell Inn, Emsworth for distribution to the local shops? If you haven't any material but would love to help, then please, head to the Bluebell and ask for some fabric. You can also donate fabric there for others to collect and sew if sewing isn't your thing. There are many ways to be involved and we'd love your support.
If you have any questions at all then please get on touch with Final Straw Solent where we would be happy to help.
Happy Sewing!