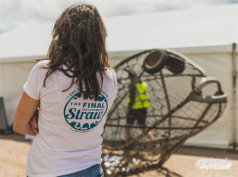 Wow, has 'Nellie' been a busy fish since she was born back in June.
Back in March 2019 Portsmouth Grammar School got in touch with us to create a project to highlight plastic pollution for their enrichment week. After some initial meetings with teachers and students, The Final Fat Fish was planned as a visual representation for everyone to show that plastics are in our fish in the oceans, and that we all need to think more about our waste. We need to cut down on our single-use plastics and ensure we recycle. However, it is not lost on us that the best final fat fish is an empty one as everyone's using reusable products and not single-use, but think we're a long way away from that sadly.
So with the help of the Fatface Foundation, Portsmouth City Council Community High Street Fund and the vision, engineering and transport from Sail Boat Trailers and Deliveries we have a 6 metre long metal fish sculpture that can easily travel the Solent area raising awareness of plastic pollution. She has been to 18 locations in her short life and is booked in to visit nine more before the New Year. Yes she's big, but so is the crisis we are facing at the moment.
If you'd like 'Nellie' to attend your event, work, school, college or University to highlight plastic pollution then please get in touch. We'd love to hear from you.
We also want to encourage all local businesses to get in touch with us to see how your business can join the Final Straw Solent, and help reduce your single use plastics use and create change in Portsmouth and all along the Solent…
It can all feel a bit overwhelming, so at Final Straw Solent we have decided that we need to focus on the small local changes that can create global change.
USE REUSABLE BAGS - Plastic bags are not very strong anyway and can get blown into the countryside, waterways or the sea so easily. There are loads of interesting, cool, fun or pretty reusable fabric shopping bags around, so why not take one of those with you every time you go shopping, rather than asking for a plastic one?
REFUSE STRAWS - Most people do not need a straw, and if you do then why not use a paper, wheat or bamboo straw or reusable metal one. If you are offered a straw in a cafe, bar or restaurant, just say 'no thanks!'.
USE REUSEABLE WATER BOTTLES - Single-use plastic bottles are expensive to produce, use up valuable natural resources to make and transport and create mountains and mountains of waste once we've gulped down the contents. And recycling's not the answer either, here in the UK an estimated 800 plastic bottles a MINUTE are either ending up in landfill or as litter, which will too often make its way into our waterways and out to sea. We can all help with this by purchasing a re-useable water bottle.
Put simply, if it's plastic or wrapped in plastic, think about viable alternatives. Refuse that straw and any other unnecessary plastic, spread the word and help save our planet!
We hope that people will follow this campaign with earnest and join us for our next organised beach cleans, and that it will have a positive impact on our environment and change peoples' views on their consumption of single-use plastic.
Please find the Final Straw Solent on all social media networks and at: www.finalstrawsolent.org
https://www.facebook.com/finalstrawsolent
https://www.instagram.com/thefinalstrawsolent
https://twitter.com/FinalStrawSOL