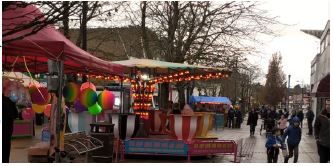 While some towns moan that council cuts mean they have no Christmas Lights – Waterlooville came together this weekend to create a great event to switch theirs on.
The damp weather did not deter the crowds. People browsed the stalls, went to the funfair and ate at the hog roast, before they wandered along to watch the entertainment on the stage. 10 acts gave their time for free. Classique dance showed off their talented youngsters whilst the musicians from Cowplain school got everyone into the Christmas spirit. The children had enjoyed making their lanterns and parading though the town following the band of TS Tenacity. So much to mention but not enough space.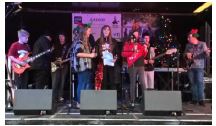 The light switch on was performed by the Deputy Mayor of Havant, councillor Peter Wade ably assisted by Santa.
Everyone in Waterlooville Town centre celebrating the countdown to Christmas thoroughly enjoyed themselves and so it made the hard work of all the volunteers from the Waterlooville Events team worthwhile. Local businesses also played their part by contributing to the cost of the installation of the lights and by providing some entertainment or mulled wine (non alcoholic of course!) and mince pies.
Overall the Waterlooville Community came together and nearly 1,000 people enjoyed the entertainment and the switch on. Waterlooville should be very proud!
To find out what else the Events team are doing see Facebook - Waterlooville Events or blog Weteam.org