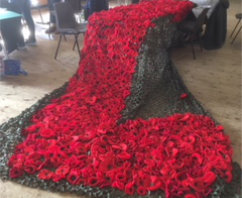 A cascade of over 16,000 handmade poppies to commemorate the 100th anniversary of the end of the First World War and to honour all service men and women has been created by residents on Hayling Island and surrounding areas, and even far flung corners of the world. The cascade along with poppy tributes in the Church and an exhibition compiled by Hayling U3A about life on the island during World War 1 will be on display from 8th October 2018 until 12th November at St Peter's Church, Northney, Hayling Island, PO11 0RT from 10am to 4pm Monday to Saturday.
The plan to create the poppy cascade "For the Fallen" was a project first started by the Northney Textile Crafts Group on Hayling Island coincided with discussions about how the church were going to commemorate Remembrance Sunday in 2018. Within days handcrafted poppies came flooding in and, following a number of Poppythons where people came along and made poppies or helped to attach the poppies to the cascade, by July almost 17,000 had been donated, some with a label dedicating a poppy to someone who had died in conflict.
Alyson Griffin, a member of the Northney Textile Crafts Group, who first thought about the project having seen a cascade of knitted poppies hanging from a church wall in Scotland in November last year, said, "It was a very moving display in Scotland and I thought that Hayling could match such a dedication For The Fallen. The exhibition seeks to do equal justice to those who died and those lived through the one of the most inhuman conflicts in history.
The "School of Musketry", "The VAD Hospital", "The Contribution of Hayling Women", "Food Production on the Island" and Hayling Schooling" all feature on the information boards as does a feature on Medals won by Islanders. We look forward to seeing visitors later in the year to view the poppies, see the exhibition and poppy tributes and join us for a cup of tea or coffee." The Poppy Cascade, poppy tributes and Exhibition is open to all, school groups can visit on request