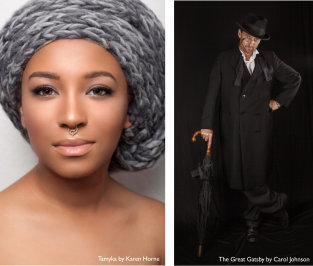 Hayling Island Camera Club put on their annual Photographic Exhibition at Northney Farm Barn over the weekend of 19/20th August. Visitors topped the 270 mark this year, most of whom accepted the club's invitation to choose their top image and their top panel (a selection of images on a theme).
The new President, Keith Tester, announced the results of the visitors' votes at the first meeting of the season on 4th September.
The photographer of the winning image was Karen Horne with a portrait of "Tamyka".
Karen will be presented with the Lee Filters Millennium Cup at the end of the season.
The winner of the draw for the picture the visitor would most like to take home was Sheila Buckingham who receives a copy of the image entitled "The Great Gatsby". The photographer was Carol Johnson who receives a cheque for £20.
The winner of the panel with the most votes was Bobby Hamilton with "Africa in Infra-red".
Bobby received a voucher for a cream tea for two at Northney Farm Barn tea room as did Nicola Holland, the winner of the draw from those who voted for his panel.
The club is looking forward to an active 2017/18 season. Forthcoming highlights include a visit from Guy Edwards on 4th December with "A professional approach to outdoor photography" . Guy is a well-known professional landscape, nature and travel photographer who makes a welcome return to the club.
January 15th sees another visit from the ever-popular Gavin Hoey with his short workshop on "Lighten Up". Gavin will be taking and showing some great ways to light photos. Both photography and post-processing will be carried out live and consists of a wide variety of subjects, from candles to portrait photography.
Both these events are expected to attract photographers from outside the club and visitors paying at the door are advised to arrive in good time for the meeting which commences at 7.00 for 7.30 pm.