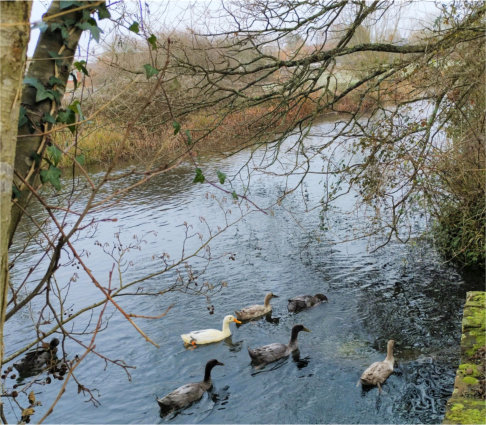 The Friends of the Ems group, formed by people in Westbourne and the surrounding area, has assembled a dossier of evidence to show how the river has been harmed.
The group believes the river is being seriously damaged by the amount of water being removed from its underground sources, and is lobbying Portsmouth Water and the Environment Agency for a reduction. It has been backed by Chichester MP Gillian Keegan and local councillors.
A group spokesperson said: 'Since we formed back in September we've done a lot of research, which has included uncovering past reports, speaking to experts and recording the memories of local people.
'We've gathered a lot of evidence which we believe shows how much the river has deteriorated over the years. It's now at a very worrying point and action is needed to save it.
'Having enough water in our taps is of vital importance. But the social and environmental benefits of a fully functioning river are also of immense value.
'The Ems is a very rare chalk stream, one of only about 200 of its kind on Earth. It's a vital resource for local people as well as for wildlife. Walkers find beauty and relaxation along its banks. Children play in it, feed the ducks, catch tiddlers and experience nature. It has a huge role in the well-being and mental health of the community.
'We believe it must be possible to find a way of reducing pressure on the river while maintaining a water supply.'
The group, known as FOTE, says the Ems was healthier and flowed more strongly in the past, before modern-day abstraction (removal of water) by Portsmouth Water.
It says:
Past editions of the national angling guide Where to Fish show that the river has changed dramatically. From at least 1928 through to 1966, the guide's description of the Ems was consistent. It said the river 'rises above Racton' and has 'good trouting'. By 1967 the entry had been modified to: 'rises above Racton, trout, but upper reaches are dry most of summer'. By 1973 there was no mention of the Ems as a place to fish at all.
There was a commercial angling club at Aldemoor/Lord's Fishpond (alongside Foxbury Lane, just before Woodmancote Lane) that died out in the early 1970s, after abstraction began.
The Domesday Book (1086) listed four mills and a fishery at Westbourne, a mill at Warblington, a mill at Newtimber (close to Warblington), a mill at Lordington, two mills at Nutbourne and three mills at Bosham. The four mills at Westbourne were recorded as the most valuable in the area, well above the average for mills in Sussex. This suggests they were stronger than average. The fact that there was a mill at Lordington suggests there was once a much greater flow of water there. On the 1640 map of Westbourne there are at least two watermills in the village itself (River Street and King Street), and up to five fisheries.
The area had extensive water meadows and watercress beds, visible to this day on LIDAR (aerial laser survey) maps.
There was a sheepwash below Broadwash Bridge (on the Common Road, just north of Foxbury Lane) that was used to wash flocks in June before they were sheared.
Numerous oral history records suggest that the river was never dry below Aldemoor/Lord's Fishpond, north of Westbourne, before abstraction began in the 1960s. It was rarely dry below Broadwash Bridge, and for extensive parts of the year trout and eels could be found as far north as Mitchamer pond below Stoughton.
Plant and animal surveys reported to the Environment Agency in 2007 suggest the Ems used to be perennial (flowing year-round) below Broadwash bridge.
FOTE says climate change or urbanisation cannot account for this reduction in the strength of the river.
By
John Millard, Greening Westbourne