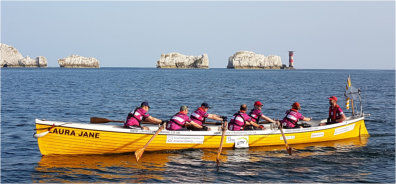 Langstone Adventure Rowing, based at Northney Marina, Hayling Island has been working for the last two years with a team of doctors and nurses from Southampton Children's Hospital, to undertake a daring row from Jersey to Southampton to raise funds for the city's children's emergency and trauma department appeal.
Known as J2S and described as "epic" by five-time Olympic gold medallist Sir Steve Redgrave and backed by double Olympic champion James Cracknell. "Congratulations to all the doctors and nurses taking part in this epic row from Jersey to Southampton to raise money for the new children's emergency and trauma department. What an amazing thing they are all doing, good luck and well done – they all deserve gold medals," said Sir Steve.
The crew of twelve trained for eighteen months to learn to row and cox themselves in the Gig Laura Jane over the 200km Challenge – managing the difficult tides & rocks around Jersey & Alderney; crossing the busiest Shipping area in the world in the Channel and the demanding tidal flows on the West Solent and Southampton Water.
All did not go as planned! One rower was injured, and the crew reduced to eleven! Then, as the crew arrived in Jersey on 7th June, it became clear that a weather front on the south side of the Channel could scupper the 'midday Friday to Saturday evening' Row Plan. The whole thing could be cancelled! So, the crew accepted to bring the row forward and start on Thursday at Midnight instead – turning the row into an even more challenging two nights and a day! Arriving at 2.30 am on 9th June in Ocean Village having been on the water for over twenty-six hours.
Not only that, the early start also meant that tides were against us, where they should have been 'with us'. Rowing up the Solent, against the tide for eight hours at the end of the epic voyage was very demanding!