Introducing the Final Straw Solent's Emsworth Youth Eco Council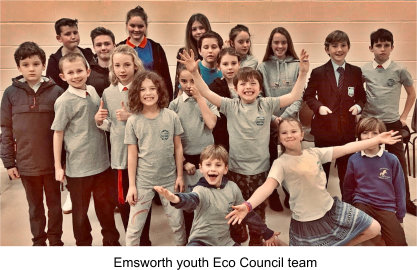 You've heard it here first. Final Straw Solent has launched a youth eco council for the town of Emsworth that are aiming to tackle some key plastic pollution and climate change issues that are playing hard on the minds of our younger generation, whom are fighting for our planet. It's their future and they want to stand up and act, and who are we to get in their way.
With the support of Final Straw Solent, the group of twenty keen environmentalists, from schools all over the area, and aged from 7-14, have met and discussed changes they want to see happen in the town, and they have already put their plan in motion.
The first port of call was to plan what is important to them and items they think they can achieve. They have enlisted the support from the Emsworth Business Association, and are planning a night to announce to all of the businesses their goals.
This is planned to be in the first week of March currently . These goals include linking up with Stansted Park and planting trees to help replace what has been felled due to the devastating ash disease hundreds have fallen victim to.
The children couldn't stress enough the importance of replacing these trees to help fight climate change and are heading to their schools with messages to the head teachers that, from match funding from the fabulous Postcode Publications, they will be looking for teams of willing tree planters to head out to Stansted to help plant their purchased trees.
Yes, you read that right. Postcode Publications has agreed to match fund 100 trees for this project, and the Youth Eco Council all jumped for joy when they heard the news.
On the list to tackle is the use of plastic bags, plastic straws and plastic water bottles in the town. These mini heroes want the town as single use plastic free as possible, and we certainly want to help them achieve this.
In the team we have a group of children from St Alban's school who are actively involved in the Pollinator Promise. Their aim is to increase the amount of areas that have wild, bee friendly flowers, to provide more nectar for our at-risk bee population. This part of the team are linking up with Emsworth in Bloom and are planning big, blooming, beautiful things. Bus stops, roundabouts and verges may all start to look a little different this summer! Say good bye to the litter along the side of the A27 slip ways and we hope to welcome meadow style flowers in its places. Now tell us that is not something you want to see? With the help of Norse SE this aspect will be achieved.
Collaboration is key to the success for this mission for the youth eco council and if any business, individual or group would like to offer their services to help, then please do get in touch with Final Straw Solent.
Everyone is welcome to attend the meeting and date, time and location will be advertised on Final Straw Solent's website and social media channel's very shortly.