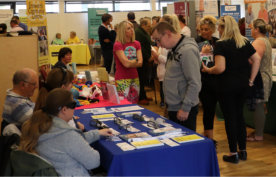 The Fair attracted scores of residents of all ages when it was held at Emsworth Baptist Church on 8th October.
People attending the event benefitted from the chance to chat to specialists and volunteers from more than 40 agencies, charities and groups about the many health and wellbeing services available in the local area. Tanya, who moved with her husband to Emsworth last year, said, "We sensed that Emsworth was a really vibrant community when we moved here and this event proves it".
Tanya and fellow Emsworth resident, Graham Crane, were also amongst many people who wanted to find out about the different volunteering opportunities available.
Theo Schofield, Trustee for The Friends of Emsworth Community Health and organiser of the Fair, said, "We were delighted that the many visitors to the fair found it enjoyable and worthwhile. We would also like to thank all the organisations that took part on the day, providing people with friendly advice and support".