Emsworth Flower Club celebrated its 30th (Pearl) Anniversary at their Annual General Meeting in February. Elaine Hopcraft, Chairman, Christine Knights, President, and founder member, Janet Payne, incoming President cut an anniversary cake.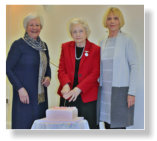 Elaine recollected in her report on the many events that members participated in over the years. From festivals at Chichester, Winchester and Portsmouth Cathedrals, Parham House, Lancing Collage and Arundel Castle, to shows at Hampton Court, Malvern and Emsworth. They also gained three gold and a bronze medal in national and local competitions. Members also arranged flowers in Westminster Abbey.
Elaine went on to comment on the club's fund-raising achievements. Each year the club nominates a charity, and since 1997 we raised over £45,500 mainly for local charities, such as The Rowans Hospice, The Rosemary Foundation, and Naomi House.
Currently, the money is predominantly raised at Stansted Park during the summer Garden Show and the Christmas Fair, by decorating the Stansted Chapel with themed floral displays. The summer theme was 'Our Hobbies' and 'Christmas, a Time for Giving' in November.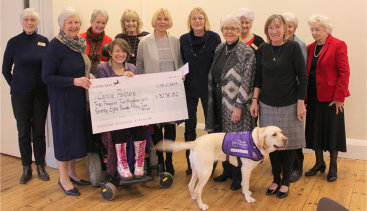 Canine Partners were the chosen charity for 2018. At the start of the meeting, a cheque for £3,278.52 was presented to Nicola and her partner Flora, who represented Canine Partners. Flora was certainly the star attraction at the meeting. Nicola gave an appreciative thank you and described how much freedom Flora has given her over the past year.
The meeting was concluded with tea and cake after an hour's entertainment by local Soprano Jennifer Parker-Lummis.
Emsworth Flower Club meets in St James Church Hall, Emsworth at 2pm on the 4th Friday of the month, Jan – June and Sept – November. New members and guests are very welcome. If you love flowers, come to one of our meetings and watch a demonstration. For more information telephone Vanessa 023 9278 9282 or Email eg.floradora@googlemail.com