– without stepping outside their front doors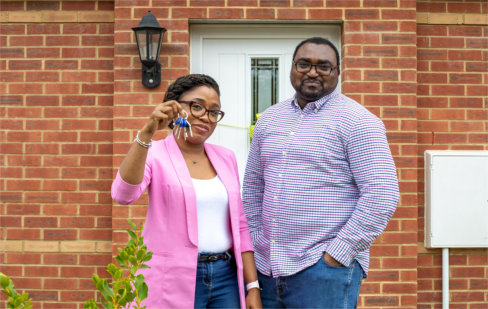 As early signs of lockdown easing gives a glimmer of hope to many people missing friends and family, two Emsworth residents have been busy thinking up new ways to welcome guests into their brand new home – without even leaving the house.
Sunny and Gloria Onuh, who live at Barratt Homes Saxon Corner have launched a YouTube channel to share their 'new house' journey with family and friends.
The couple were the first to move in at the five-star housebuilder's development in Emsworth just before lockdown last year and have been enjoying settling into the new community. However, they have also been longing to show friends and family around their new pad – so they came up with an alternative way to do this while lockdown prevented them from welcoming people into their home.
Gloria, who has clocked up an impressive 1300 subscribers on the channel, said: "We were eagerly awaiting the launch of Saxon Corner and were delighted to be the first to move in here. We absolutely love it! It is a gorgeous place to live and it has been amazing to watch the area develop."
The couple have uploaded a few videos from "first look" to inside tours of the property, each attracting around 1,000 views each – and it's definitely proved a hit with Gloria and Sunny's friends and family.
"Moving into our new home in a year full of lockdowns and restrictions means we haven't been able to show off our new house as we would have liked," Gloria said. "It was because of this that we decided to set up our very own YouTube channel.
"We have uploaded several videos that show our new home and the development in all its glory – it has been the perfect way to share our love of this place during these difficult times!"
The couple opted for an Ennerdale property which has not only impressed the couple as they are also big fans of the development's location.
Sunny said: "There's so much to see and do in Emsworth, and we've been really happy to walk around the local area for our daily exercise, as well as make use of some of the many cycle paths.
"And with Saxon Corner located within easy reach of the coast as well as the cities of Chichester and Portsmouth, there is so much more we can explore in the months and years to come."
Tammy Bishop, Sales Director at Barratt Homes can see why the pair have fallen in love with their new home and is thrilled that they want to show it off.
She said: "With social guidelines and restrictions on mixing making it difficult for people to share certain milestones with family and friends, Sunny and Gloria's idea of a YouTube channel is the perfect alternative. What a great way to show off their home, and invite friends and family in for a guided tour, all from a distance!
"It's easy to see why Saxon Corner has been so successful. This is a very popular area in which to live, and many buyers are demonstrating a keen interest in this delightful development – and we now only have a few properties remaining here."
Barratt Homes is bringing new homes to developments including at Saxon Corner, a collection of three and four bedroom homes close to Emsworth town centre.
For more information, please visit www.barratthomes.co.uk