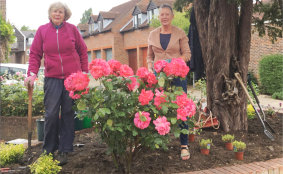 This flower bed sits in a gateway position coming into Emsworth from the east and was originally planted more than 30 years ago and since that time has been neglected and overgrown. It is the responsibility of the county council and whilst they said it was outside their current maintenance programme gave a couple of community volunteers a licence to maintain the flower bed for five years.
Postcode Publications and our county councillor have supported the restoration with funds and we also hope the local residents association will do the same.
The retaining wall has been re-built and thirty-five years of weeds and roots removed with the soil enriched with compost and manure by local volunteers. A few days ago the bed was planted out with an array of plants and flowers and now adds to the glory of Queen Street.
Local residents have offered to join a rota to keep the bed watered as it stands under the branches of an iconic Yew Tree that has graced the street for more than a hundred and fifty years. When visiting the town do come and take a look.