AUCTIONEER & ANTIQUES ENTHUSIAST HILARY BOLT ASKS...
TOBY, OR NOT TOBY? THAT IS THE QUESTION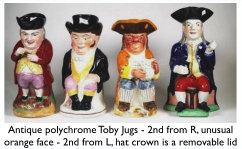 Over the last twenty years I've been lucky enough to turn a life-long interest in "old things" into my current day jobs – auctioneering in Emsworth Auctions and running an antiques & collectables shop, Emsworth Antiques Etc. in the town's West Street.
I have a fondness for pieces that show that they have 'lived'. A piece of C19th century pottery that has the odd chip but remains in circulation shows that it has been loved and valued like a rather dishevelled but worthy family retainer.
There was so little colour or frivolity in the lives and households of the working families of the Victorian and earlier eras, that a piece of pottery on the mantelpiece needn't be high quality to be valued – a splash of colour in the home must have been welcomed and prized in a way we cannot begin to imagine.
From that era, we find 'fairings' – little figurines depicting domestic scenes with titles (some of them such as "Last one to bed puts the light out" being outrageously rude for polite society) – and the Staffordshire potteries produced larger figures of politicians, pastoral characters and preachers. These enabled any and every household, however pious, to display something decorative.
Another widely owned pottery item – this time of some practical use – was the Toby Jug.
This is a pottery jug typically in the form of a stolid, seated man dressed in late C18th clothes, with a tankard or ale jug and – very often – a tobacco pipe. His tricorn hat would form the jug spouts with the crown being a lid, though many of these have been lost over the course of time.
The origin of these pieces is unclear, but maybe based on an C18th print by Carrington Bolwes, depicting a character called Toby Phillpot. In turn, this character was said to be based on a notorious Yorkshire drinker called Henry Elwes who was mentioned in a drinking song 'The Brown Jug' first published in 1761.
It was at about this time that the Staffordshire potteries swung into action, producing vast quantities of these figures, decorated variously with brown salt glaze and, later, shades of cream, brown, green and blue.
Variations with jugs depicting just heads rather than full bodies have also been produced over the years, although these should rightfully be called 'Face' or 'Character' Jugs. Royal Doulton have produced a very successful range of these including a policeman and the three musketeers, but their figure of Winston Churchill is a full Toby Jug.
Such a variety of antique, vintage and contemporary Toby Jugs makes them a truly fascinating area for the collector.