AUCTIONEER & ANTIQUES ENTHUSIAST HILARY BOLT on EMSWORTH'S PREMIER MICRO-BREWERY
Over the last twenty years I've been lucky enough to turn a life-long interest in "old things" into two of my current day jobs – auctioneering in Emsworth Auctions and running an antiques & collectables shop, Emsworth Antiques Etc. in the town's West Street.
In 2011 we also set up The Emsworth Brewery, located in the old dairy building behind the shop. Since then, many of you have asked us when we will be selling our Real Ales through the shop itself.
The answer, dear reader, is that we have just been granted a licence, so from now on you can buy our beers from the shop at £3 per 500ml bottle and arrange to buy larger containers (pins & firkins) from the brewhouse itself.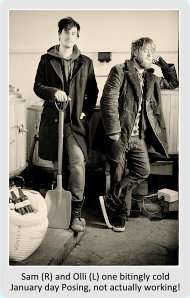 Our brewers are Sam - Head Brewer (right) and Olli (left), who work with our unique recipes.
We have Slipper (our Session Ale) at 3.9% alcohol volume, nice and nutty, FairField (an Amber Ale) at 4.5% which has a good hoppy body, Wayfarer (our Golden Ale) again at 4.5% which is refreshing and bright, and HollyBank (our Winterbrew) at 4.5% with its toasty malt and chocolate taste - ideal for taking the sting out of cold, wet winter evenings.
All our beers are named for Emsworth features – the Slipper pond and sailing club, the now closed Fairfield pub in New Brighton Road, Wayfarer for the walk and the dinghies and HollyBank for the local woodland .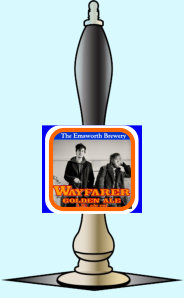 And we decided that it would be a nice change for you to be familiar with the Back-Room Chaps who actually produce the beer, so – as you see - they grace our pump-clips and bottle labels.
Apart from buying bottles over the counter at the shop – as our brewery is truly 'micro' our production runs are relatively small – so it would be a good idea to place your Christmas orders early to avoid disappointment. Anything from single bottles & 3-bottle Gift Packs to mixed cases of 12, or 5 or 10ltr 'box bags', 36pt Pins and 72pt Casks. But please remember to drink responsibly (see www.drinkaware.co.uk), and be aware that we can't serve you if we think you might be under 18 and don't have identification to prove otherwise (see Challenge 25).
However, for the moment, from Michael, Sam, Olli, Bella and me (Hilary) – the Home Team at The Emsworth Brewery and Emsworth Antiques Etc. – as the season draws on, we do hope that you ALL have a VERY Merry Christmas and a wonderful year to come.