AUCTIONEER & ANTIQUES ENTHUSIAST HILARY BOLT on COLLECTING COMPACTS
Over the last 20 years I've been lucky enough to turn a life-long interest in "old things" into two of my current day jobs – auctioneering in Emsworth Auctions and running an antiques & collectables shop, Emsworth Antiques Etc. in the town's West Street.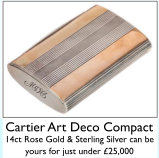 The development of powder / rouge / perfume compacts is closely associated with the increasing 'freedom' gained by women from the late C19th, although obviously such ungodly devices were frowned-upon, criticised and shunned by decent people for decades to come.
Because of this, the early containers were designed to be carried within one's reticule, and their cosmetics applied in private. The first powder cases were often concealed within accessories such as hat-pins to avoid detection.
By the 1920s & '30s some 'fast women' even rouged their knees (I still can't work that one out) and public titivation became part of the society scene. Rich ladies in smart restaurants would vie to show off the most stylish and lavishly adorned compacts fitted with finger chains or longer tango chains.
Intended for display as an accessory, much in the same way as jewellery, they were heavily influenced by prevailing fashions, either geometric Art Deco designs, Egyptian motifs inspired by the discovery of Tutankhamen's tomb, or designs to compliment that season's fabrics and fashions.
The earliest developers of compacts were in the USA but in 1923 the British manufacturer Stratton began importing parts for assembly and by the 1930s it was creating them from scratch. They developed self-opening inner lids in 1948 – a popular innovation designed to protect the powder and prevent damage to fingernails.
By now some of the biggest names in the world of bijouterie were involved in the market for designer accessories – Asprey, Tiffany, Cartier and Van Cleef & Arpels – all producing stylish compacts in the most expensive of materials.
Obviously, those products were well beyond the reach of most women – and the men who bought them such gifts!
At the more affordable end, luxurious gold and rich enamels gave way to rolled gold and painted decoration, solid silver became mother of pearl and diamonds were replaced by rhinestones.
Nowadays, Stratton is a much-collected brand, with examples such as the painted ballerinas signed by the artist Baron, from the '50s and '60s fetching around £100. Rare examples include a music box, and other decorations were both stylish and classic.
Estée Lauder is also a significant name in the modern collectable compact market, with ranges such as their solid perfume compacts with Swarovski crystals selling for several hundred pounds, to simpler vintage pressed powder compacts at about £10. One of their most popular vintage ranges, not surprisingly, is their Zodiac compacts which simply sell all year round!
We are currently selling a lady's private collection of Estée lauder Compacts at Emsworth Antiques Etc. Call in to view.