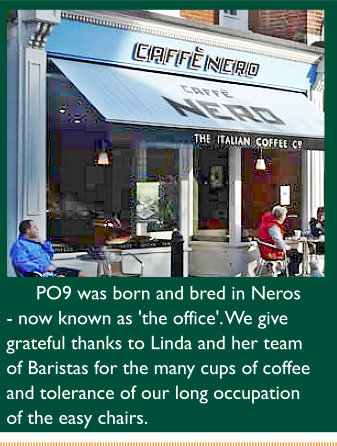 We published the story opposite in Edition 1, March 2012 remembering the birth place of Postcode Publications and our first PO9 newspaper.
Time marches on, and unfortunately the 'dog friendly' coffee shop is no more, having closed and been completely gutted on 29th January 2021 to make way for a new tenant.
Hopefully Café Nero will re-emerge somewhere else in Havant once the lockdown is lifted and life starts to get back to normal, to satisfy it's many customers again.
We understand that this was caused by the Café Nero nation-wide business entering into a Company Voluntary Administration, following a catastrophic drop in trading during the Covid19 pandemic.
We hope that the staff will find other work soon, but that's probably not going to be easy as many other small shops and cafés are closing their doors.
Let's hope that life can soon return to normal and that we will be able to take our coffee breaks on the high street as we used to.