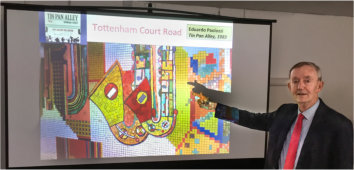 On Saturday morning, 16th November, a full audience attended an illustrated and informative Day School organised by Havant WEA (Workers' Education Association) and presented by Mike Grundy at the Spring, Havant, on the subject: "The Dramatic Art of the London Underground." Many members of the audience were not previously aware of the extent of the artwork because, as Mike explained, "Nobody ever sees the Art - it is always behind the traveller."
The audience was taken on a pictorial journey through the London Underground – stopping at every station. The association between art and the underground began in 1908 when its then publicity officer, Frank Pick, commissioned leading artists to work on poster campaigns. Most of the present artwork was commissioned in 2000. As there are 270 stations altogether it is not feasible to describe all the images presented but the following are some of the highlights:
As the artwork reflects the locality, at Baker Street there are images of Sherlock Holmes, at Trafalgar Square, near the National Gallery, are paintings dedicated to the Renaissance period. On the Northern Line at the Oval are humorous murals, statues and banners of cricketers. There are Art Deco images at Leicester Square but in contrast East Finchley is in modern style. Oxford Circus has a colourful mural of Snakes and ladders: the diversity and detail of the images is astounding. Not only are there paintings, there are statues, and even abstract mosaics by Eduardo Paolozzi at Tottenham Court Road. - pictured above with Mike Grundy.
Throughout the Day School there were opportunities for the audience to express their views and interpretation of the illustrations with a quiz at the end, matching specific artwork to stations. Many people had been enthused to seek out for themselves the Dramatics Art on the London Underground.