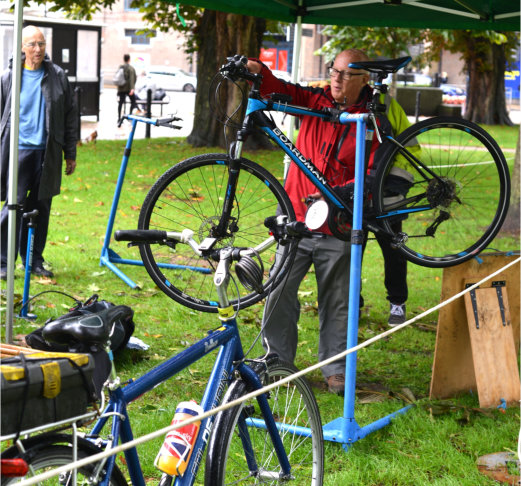 Havant Park saw a group of volunteers brave Storm Francis to check and tune a number of bicycles for safety and efficiency.
It was also the long-awaited launch of Havant Repair Café, which had been delayed by Covid-19.
Bikes have come to the fore as owners wish to avoid crowded public transport for shorter local trips, and if the bike has not been used for some time it may be in need of a little attention, especially with bike shops so busy.
So Havant Repair Café has teamed up with Cycling UK and local cyclists to organise half a dozen free 'Dr Bike' sessions, where experienced cycle users carry out a twelve point check on each bike, replace any minor parts if needed, make any adjustments necessary, and show the owner how to do simple maintenance themselves.
Organiser Anne Sayer said that when Storm Francis threatened heavy rain and gale force winds, she was tempted to cancel the event but her volunteers all turned up, erected a marquee, and prepared to welcome visitors.
Five people had booked to get their bikes looked at and the volunteers set to, doing the usual Covid safety spray of the bikes first, then spending up to half an hour on each bike checking and tuning the wheels, brakes, steering and gears for condition and safety.
After each bike had been adjusted it was double checked before being disinfected again and collected by the owner, together with a brief report on any faults found and corrected and advice on any further work that may be better handled by the local bike shops.
One tyre was showing signs that it needed replacement soon, and the owner advised which size to buy.
After a couple of hours the rain had faded away but the wind had intensified so the marquee was packed away and everyone enjoyed working in the fresh air.
The team of volunteer mechanics was led by Chris Cheetham, of Portsmouth's Community Cycle Centre, who also provided the marquee and many of the tools.
One of the customers said that it was as though he rode down on a donkey and returned on a Rolls Royce. A bit of an exaggeration, I think, but the sentiment is fine.
Anne tells us that she has planned another three sessions, all free, and in Havant Park opposite the bus station, on Saturdays 12th, 19th, and 26th September.
Any local resident is welcome to bring their bike over for a check up, and maybe some free advice, but it is wise to book a time slot on line by emailing: repaircafehavant@gmail.com