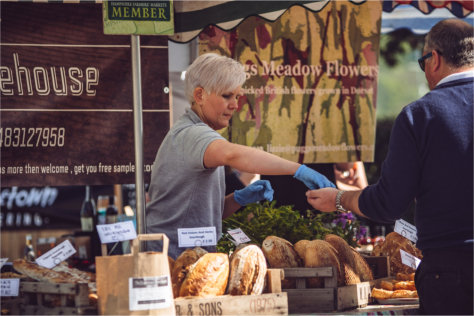 On September 7th, Hampshire Farmers' Markets will be returning to Hamble's Foreshore Car Park from 10am to 3pm for the Hamble Food Festival.
"This is our second visit this year to the beautiful village of Hamble," said David Woodroofe, chairman of Hampshire Farmers' Markets. "Our September festival has always proved popular and this year we will have 30 producers hoping to tempt festival goers." Not only will there be plenty of food, drink and plants to peruse, little ones will be able to have their faces painted and there will be music in the (sea) air with the brilliant Hampshire band The Un'expected.
Just some of the Hampshire producers visitors will find on the day include the award-winning Ambrose Sausages, as well as New House Venison and Game, both of whom will be selling meat perfect for those last few barbecues of the year.
If it's new plants for the garden you're after, then visit Yvonne's Plants to pick up something pretty for your pots. There will also be five different pie producers on the day: Mud Foods, Jake's Artisan Foods, FNK, Roy Hunt Produce and even gluten free offerings from A Basing Bakes.
For freshly baked artisan bread, The Hampshire Real Bread Company and The Sourdough Bakehouse will have lots of loaves on offer, plus those hooked on seafood will be keen visit Catch Fabulous Fishcakes and Butler Country Estates. As for Hampshire drink, rest assured you won't go thirsty. Itchen Valley Brewery will be serving up some beer, Jarrold's Gin, Winchester Distillery and Silent Pool and can add some gin to your cocktails.
All the delicious food on display will no doubt have everyone feeling peckish so Newhouse Venison will be serving up burgers and Hampshire Table will be cooking their amazing street food.
"This festival is always a huge draw for locals and visitors to the village and with the entertainment that's planned too, as well as free parking, it promises to be a great day," David continued.
For a full list of Hampshire Farmers' Markets producers who will be at the festival visit: www.hampshirefarmersmarkets.co.uk