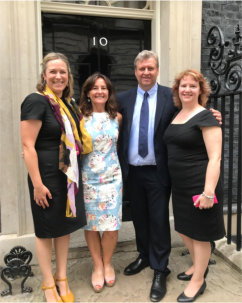 Members of the Diabetes Service at Portsmouth Hospitals NHS Trust attended 10 Downing Street where the Prime Minister, Theresa May, personally thanked them for their dedication and care in the NHS.
Attending alongside children and adults who live with diabetes, carers, other specialist NHS staff, academics and innovators from the field, the event was an opportunity for the PM to hear about the innovative work that is taking place.
As a diabetic herself, Mrs May also spoke about living with diabetes and the moment she was diagnosed as Type 1 diabetic. The Prime Minister expressed that she would be 'forever grateful' to all those who taught her how to manage her condition.
Prime Minister Theresa May said: "The one thing I told myself when I found out was that I was not going to let diabetes stop me from getting on with my life, and getting on with my job."
Acknowledging youth volunteers and fundraisers working within diabetes charities, Theresa May also accredited a number of children who live with diabetes and had excelled in sport, campaigning and raising awareness of the condition.
Speaking after the event, Professor Michael Cummings, a Diabetes Consultant at PHT said: "We were delighted that Portsmouth Diabetes Services were recognised in this way and it is a testament to the local team that the four of us were invited to attend Downing Street and meet with Theresa May and other fellow diabetes health care professionals and patients. On a personal level, it was an honour to enter the PM's home and hear about her and others' journeys with diabetes. It was very inspiring."
The government is working to improve the lives of those living with diabetes. Funding has been doubled for the NHS's Type 2 diabetes prevention programme, and continuous glucose monitoring for all pregnant Type 1 diabetics by 2020 has been introduced.