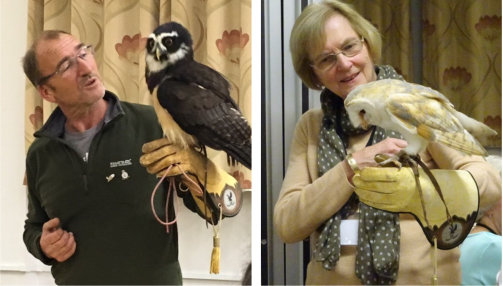 Denvilles Women's Institute welcomed Andy Kendall and his "Owls About Town" to their W.I. Meeting in October. Members had a chance to handle the owls and watch them fly. It was a magical evening, enjoyed by all. This autumn members have also enjoyed talks from John Pitman on his experiences playing a Pantomime Dame in the theatre and from Bob France who spoke about the families who have lived in Petworth Park since the 12th century. In December the Solent City Male Voice Choir will be entertaining members at the Christmas meeting. A Christmas lunch was held at Chichester College and a Christmas Service held at St. Thomas Church, Bedhampton on.
The Institute's regular film and table tennis clubs have continued to flourish and the monthly knit and natter and book groups are enjoyed by all who attend. We also continue to raise money each month for the charity Associated Country Women of the World (ACWW), which is the largest international organisation for rural women and is the charity supported by the W.I. Movement as a whole.
See Denilles W.I.'s programme in What's On columns.