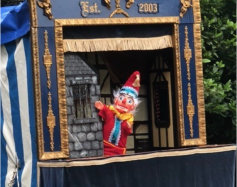 Denmead Horticultural 70th annual Show went ahead on Saturday 21st August and was a resounding success.
Despite the rain there was a great turn out, and a lovely atmosphere.
The arena staged an enthusiastic over 50's dance demonstration by the better Body Club led by Lisa Lingard; Malcolm the Magician kept everyone entertained with his conjuring  tricks and balloon modelling and Homes and Hounds of Denmead organised a splendid Fun Dog Show.
Numerous local groups and businesses supported the show with stalls, tombola prizes and publicity and local farmers provided transport, hay bales and much needed muscle