Denmead Junior School PO7 6PH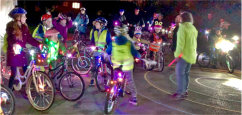 The Denmead Glow Ride at Denmead Junior School is a fun family event for everyone but has a serious message about being visible and safe while riding a bike.
There were over 50 riders for our first event on 28th December – a fantastic turnout and many very decoratively lit bikes.  We have had excellent feedback, everyone had a great time and it will become a regular event on the Denmead Calendar between Christmas and New Year.
Between Christmas and New Year was a good time to run the event as many children (and sometimes adults) are given bikes at Christmas and it is a good opportunity to give the safer cycling messages about being visible and wearing helmets.   Decorative bike lights are also a good idea for stocking fillers from Santa.  There is also a bit of a lull between Christmas and New Year and it's a good opportunity for people to get together to have some free fun while the Christmas lights are still up.
The  Denmead Glow Ride event opened at 4.00 pm. with the  Toddler/balance bike and Sports Track Circuits open for use
At 5.00 we had the Best Dressed Bike competition, and at 5.15 a raffle was drawn, finally, at 5.15 through to 5.50 a Glow Ride took place through the village with decorated and illuminated bikes.
This event was supported by local businesses in the Denmead Business Club, Breeze Rides for Women, Cycling UK (previously CTC) and Denmead Junior School.  MacDonald Oates, Basil and Thyme Outside Catering, Fox and Hounds, Grosvenor Physiotherapy, Barnards Coffee House and Restaurant and Mary J's Hairdressing being our major contributors.  Also, a big THANK YOU to all the willing volunteers who helped on the day.
So, don't forget to join us next Christmas – LIGHT UP AND BE SEEN! Look out for the posters on the run up to Christmas at the end of the year.
Organiser: Terri Bryant - Tel: 023 9224 1764 or email: terribryant@btinternet.com