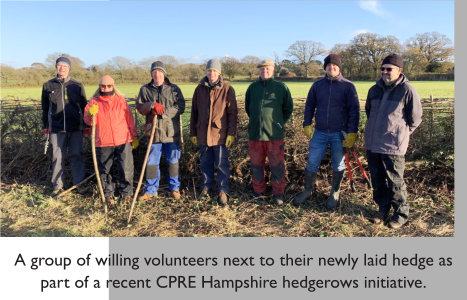 Community groups from across Hampshire are being invited to apply for grants of up to £750 to assist with the planting or restoration, by laying or gapping up, of hedges in areas accessible to the public.
At CPRE Hampshire, they are passionate about hedges. Not only as a beautiful feature of the countryside, green spaces and gardens, but for the contribution they make to reversing the effects of climate change, and in providing shelter, homes, safe travel and food to all kinds of wildlife. In recognition of the value they offer, the Hampshire based countryside charity has launched a Community 'Hedge' Fund.
The aim is to reach across Hampshire to assist the national CPRE target of increasing the length of hedgerows in the UK by 40% by 2050. Since 1945, we have lost half our hedgerows, intensifying nature's decline and hindering the fight against climate change. CPRE Hampshire is determined to help in turning this round by communicating the important role hedgerows play, as well as undertaking projects around restoring and planting.
Recent initiatives include a project in the South West of Hampshire to restore and plant hedgerows, involving local schools, the local Young Famers and a team of volunteers. A new initiative is currently underway with Hampshire County Farms in a new location near Fareham with a new set of volunteers and community groups involved.
Boyd McCleary, CPRE Hampshire Vice Chair said: "We are delighted to launch the Community Hedge Fund. Hedgerows need our help. Around 50% of this country's hedgerows have disappeared since the Second World War and many more have been seriously degraded or are otherwise under threat. This is a great opportunity to get local communities involved and get some more hedges planted or repaired in public spaces that really need it."
If you think your local public areas or community groups would benefit, visit www.cprehampshire.org.uk or email the CPRE Hampshire Hedgerow Co-ordinator at ellie.banks@cprehampshire.org.uk. Guidance and advice can also be provided where needed.
The deadline for applications is Friday 11th November 2022.
For further information or to interview a spokesperson please contact:
Vicky Marr, CPRE Hampshire Communications, 07796 440864, comms@cprehampshire.org.uk